Hayley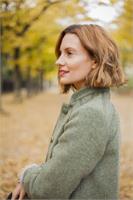 Hayley Rowlands is a fully certified RYT 200hour yoga teacher. To gain her certification, Hayley travelled to India – the birth place of yoga – and completed an intensive teacher-training course with The Himalaya Yoga Valley Centre in Goa. She was born in South Wales, UK, and currently resides in Paris, France.

Hayley first came to Paris to work as a professional dancer, and fell in love with the city and its openness to the artistic side of life. Her career as a professional dancer has now spanned 12 years, and she feels fortunate to have worked internationally for over a decade.

Throughout her career as a dancer, Hayley has always found solace in yoga practice; she has always utilised yoga as a means of escaping the demands of her fast-paced profession. The consistently strenuous nature of her work, however, concluded in many injuries. This marked a significant turning point for Hayley and, most importantly, her relationship with yoga. She started using the postures in asana as a way to rehabilitate and grew to appreciate the healing properties of yoga. Becoming increasingly devoted, Hayley's knowledge of the philosophy behind yoga developed and it became abundantly clear to her that she needed more than just physical fitness to feel truly happy. Through yoga, Hayley began to nurture her mind and spirit, as well as her body. Yoga has brought Hayley a sense of contentment and joy; it makes her feel healthier – both physically and mentally.

In Hayley's classes, she combines her extensive knowledge of dance and yoga, ensuring her students' movements are precise, whilst utilising a range of breathing techniques to achieve calmness. Hayley's loving and thoughtful personality shines through during each of her classes, and she always fosters a relaxed, non-judgemental environment. She strives to ensure her students feel free to push themselves, whist maintaining focus on the mind. Through promoting harmony between the body, mind and spirit, Hayley is extremely committed to helping others to thrive. She endeavours to lead a practice that is challenging and focused; however, her adaptability means that she can tailor her practice to suit her students' needs and abilities. It is of upmost importance to Hayley that yoga is accessible.

Having experienced first-hand the positive impact that yoga can have on a person's wellbeing, Hayley is incredibly passionate about the everlasting benefits of yoga, and she is committed to bringing yoga to everyone.
Hayley instructs the following:
The purpose of a Vinyasa class is to link the traditional yoga asanas / postures together into a harmonious flow of transitioning positions while giving focus to active meditation. This could be considered a more 'active' class than our Hatha offerings. It is dynamic yet soft in nature, and relaxation is often reserved to the end of the session. The sequence of postures will vary from class to class, building on the fluid transitions of core asanas to develop strength, flexibility, balance and focus.

This class is in English, most of our teachers do speak some French, don't hesitate to ask for help understanding.

Le but d'un cours de Vinyasa est de relier les asanas traditionnels/postures ensemble dans un flux harmonieux, tout en donnant l'accent à la méditation active. Cela pourrait être considéré comme un cours plus «actif» que nos cours de Hatha. Il est dynamique mais doux en nature, et la détente est souvent réservé à la fin de la session. La séquence de postures varie d'un cours à l'autre travaillant sur les transitions fluides d'asanas de base pour développer de la force, de la souplesse, de l'équilibre et de la concentration. Le cours est en anglais mais n'hésitez pas à demander des précisions au prof. Le cours est ouvert à tous, apportez votre tapis de yoga ou une serviette.



WHAT TO WEAR

-Comfortable clothes that don't restrict movement

-This class is generally practiced barefoot

*Showers and designated changing facilities available only at Studio Bleu in 75009; all other indoor locations have restroom facilities available for changing.



WHAT TO BRING WITH YOU

-Mat or towel (there are no mats available to borrow in the spaces)

-Water Bottle

-Optional - Yoga props - blocks, straps, cushions, etc

*Yoga mats are available for purchase for 24€. Non-toxic materials, variety of colors, size: 63cm x 183cm. Follow link to purchase:

http://clients.mindbodyonline.com/classic/ws?studioId=39852&stype=43&prodid=10162

Mats can be delivered to our classes in the locations in 75001 (St. Roch), 75015 5Etienne Pernet) and 75009 (Studio Bleu). Once ordered, email support@affordableyogafitness.com, and let us know during which class and at which location you would like to pick up your mat. Please bring your receipt to the class. In some cases a few days notice may be needed to make sure the mat is at the class, so we appreciate your patience if and when this happens.



CLASS LEVEL

This class is open to every level of practitioner from beginners on up. Our instructors give careful guidance to ensure that everyone is comfortable in the foundation of the posture, and modifications to increase or decrease the intensity of each position will be available. Feel free to ask for modifications.



DIRECTIONS

Please verify class location or address on our schedule as we have several venues in Paris:

http://www.affordableyogafitness.com/apps/mindbody/list-schedule

Location details can be found on the 'Contact Us' page:

http://www.affordableyogafitness.com/pages/contactWhen you enter the building, look to follow the Affordable Yoga signs to your specific room.

Any problems, follow link for teacher's phone numbers:

http://www.affordableyogafitness.com/pages/contact

*Please note that there is limited mobile phone reception at the studios. If you need to contact the instructor, please do so at least 20 minute before the start of class. Since our teachers will be busy checking in students with their personal smartphones starting 15 minutes before class, please send a text as opposed to calling as they will most likely not be able to take a call.

No communication will be possible after the start time of class.

HEALTH SCREENING

Please notify your instructor if you have undergone any recent surgeries or are currently experiencing any physical injuries. While yoga has many very beneficial health effects, we want to know how to best work with each of our student's individual restrictions.

Please consult a doctor if you have any personal concerns about practicing yoga.