Alice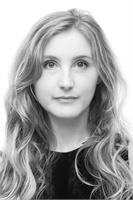 Alice has her mother to thank for introducing her to the wonders of Yoga and of Paris. After several special trips to Paris with her mother as a child and teenager, Alice began to dream of one day living here. So, she finally booked a one-way ticket from the U.K. (her home country), packed her bags, and made that dream come true.

She started practising Sivananda Yoga with her mother when she was 15, and over the years has experimented with many types of Yoga, including Ashtanga, Hatha, Jivamukti, Yin, and Restorative.

She completed her 200 Hour Teacher Training in Ashtanga Vinyasa Flow at Sampoorna Yoga in Goa, India. She has long been drawn towards Eastern philosophy, and is as concerned with the spiritual elements and benefits of yoga as the physical.

Outside of class, Alice is a writer and music journalist, specialising in interviews with hip-hop artists. Music is an integral part of her life, believing that listening to music has the potential to be a sublimely spiritual experience. She simply loves to combine yoga practice with the sonic vibrations that too stir her soul.

In her Vinyasa Flow classes you can expect to move, stretch, and sweat through dynamic sequences, with an emphasis on syncopating the breath to movement. And, of course, to hear lovingly curated playlists of underground and old school hip-hop.

Alice does not currently teach any regular classes with us.
Alice instructs the following:
The purpose of this class is to provide a dynamically un-rushed collection of Vinyasa yoga postures that pay special attention to graceful transition, intimate body awareness, and purposeful fluid strength. Think of it as the powerful counterbalance to a dynamic class where the intensity comes from speed. Here, we invite the strength of slow-motion to deepen and inform our relationship to the body.

While beginners are certainly welcome, this is not necessarily intended to be an 'easier' class.

This class is held in English, most of our teachers do speak some French, don't hesitate to ask for help understanding.

WHAT TO WEAR

-Comfortable clothes that don't restrict movement

-This class is generally practiced barefoot

*Showers and designated changing facilities available only at Studio Bleu in 75009; all other indoor locations have restroom facilities available for changing.



WHAT TO BRING WITH YOU

-Mat or towel (

there are no mats available to borrow in the spaces

)

-Water Bottle

-Optional - Yoga props - blocks, straps, cushions, etc

*Yoga mats are available to purchase for 24€ each. Non-toxic materials, variety of colors, size: 63cm x 183cm. Follow link to purchase:

https://affordableyogaaffordablefitness.liveeditaurora.com/pages/prices--packages

Mats can be delivered to our classes in the locations in 75001 (St. Roch); 75015 (Etienne Pernet) and 75009 (Studio Bleu). Once ordered, email support@affordableyogafitness.com, and let us know during which class and at which location you would like to pick up your mat. Please bring your receipt to the class. In some cases a few days notice may be needed to make sure the mat is at the class, so we appreciate your patience if and when this happens.



CLASS LEVEL

This class is open to every level of practitioner from beginners on up. Our instructors give careful guidance to ensure that everyone is comfortable in the foundation of the posture, and modifications to increase or decrease the intensity of each position will be available. Feel free to ask for modifications.



DIRECTIONS

As we rent space in several venues across Paris, please verify the class location as listed on our schedule:

http://www.affordableyogafitness.com/apps/mindbody/list-schedule

Location addresses and transportation details can be found on the 'Contact Us' page:

http://www.affordableyogafitness.com/pages/contact

When you enter the building, look for the Affordable Yoga signs to guide you to your specific room.

Any problems, follow link for teacher's phone numbers:

http://www.affordableyogafitness.com/pages/contact

*Please note that there is limited mobile phone reception at the studios. If you need to contact the instructor, please do so at least 20 minute before the start of class. Since our teachers will be busy checking in students with their personal smartphones starting 15 minutes before class, please send a text as opposed to calling as they will most likely not be able to take a call.

No communication will be possible after the start time of class

.



HEALTH SCREENING

Please notify your instructor if you have undergone any recent surgeries or are currently experiencing any physical injuries. While yoga has many very beneficial health effects, we want to know how to best work with each of our student's individual restrictions. Please consult a doctor if you have any personal concerns about practicing yoga.