Nadine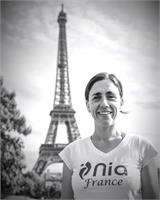 French speaking


Nadine, originally from Montpellier in the South of France, has been living in Paris for 20 years. Passionate about languages and traveling, she has had the chance to visit, live, and work in several different countries.


Always curious about discovering and experiencing the different forms of movement, she has practiced Ballet, Salsa, Merengue, Bachata, and Flamenco as well as Kung Fu and Capoeira. To Nadine, our bodies are extraordinary tools for expression, and sometimes it just takes some time and practice to find our own.
By chance, she discovered Nia through a workshop in 2012 and she instantly loved it! Within one single Nia class, one can dance, practice martial arts, have fun, express oneself in a safe and non-judgmental environment, and get a taste of Yoga and relaxation. So, in 2015, she earned her White Belt to be able to teach, and she started the extraordinary adventure of sharing Nia with students.
What does she like most when teaching Nia? To communicate her joy of dancing to the students, to provide them with the freedom of moving in their own ways, and to see the smiles lighting up their faces.
Nadine is currently not teaching any regular classes with us
.
Nadine is currently not instructing any classes.