Maxime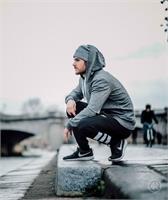 French speaking
Maxime is a fitness instructor and a Nike running trainer. He came back to France in early 2016 after finishing his education in Los Angeles. He is a former basketball player who became an all-around fitness coach. He is a certified personal & group fitness instructor who loves teaching and sharing his knowledge about wellness.
While studying abroad and taking acting classes, Maxime learned how to connect efficiently with small and large groups of people. His passion for fitness started young when he received a scholarship to play basketball in the US. It's overseas that he discovered the gyms and the whole fitness industry. After a bachelor's degree in math and physics, he decided to follow his passion and became a fitness instructor.
From Step classes to Pilates, stretching and boot camps, he really loves everything about wellness, that's why he also passed a nutrition degree to be able to give better advice during his personal training sessions.
Sharing is everything, Maxime wants you to come out of his classes feeling good about yourself and with a new healthy tip for your daily routine.
Maxime is currently not instructing any classes.