Hélène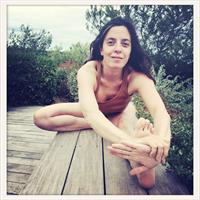 French speaking
Helene is a typical "Parisienne" since she lived in the city for 22 years now, but her heart is in Brittany by the ocean. She loves long walks to observe the changing lights of nature and taking pictures, as her first job is photographer. She is also a big fan of vegan cooking, always trying new recipes for her friends and family, especially cakes ! :)
Helene discovered the benefits of yoga after practicing martial arts intensively, which left her with several tendinitis, prohibiting her from any sport although she was a big fan of surfing... Yoga has allowed her to relieve her pain and has taught her to get in touch with herself, as well as her physical and mental abilities. Yoga also provided valuable emotional balance in an intense city as Paris.
With 10 years of regular Vinyasa practice at Gerard Arnaud Studio, she decided to deepen her knowledge and followed the initial training of the French Federation of Yoga with Gérard Arnaud in 2015 (RYT 200). Helene also benefited from the knowledge of the perineum thanks to Dr. Bernadette de Gasquet during her two pregnancies. She specialized in the same year in prenatal and post natal yoga at the Institute De Gasquet. She is now happy to care for women before and after childbirth through the method © APOR (Postural-Respiratory Approach).
Helene loves teaching Vinyasa for the accuracy and precision of its alignments. She pays special attention to detailed asanas while respecting the morphology and respective capabilities, in order to avoid injuries or long-term chronic pain.
In prenatal she attaches great importance to listening and welfare moms because she believes conception, pregnancy and birth are the major elements that determine the future life of a human being. So helping to relieve the pain of pregnancy through fair postures, increasing awareness among mothers of the importance of breathing to relax and improve the welfare of the baby are part of the tasks she has set herself in life.
Helene will be teaching in French and English. Feel comfortable with her to ask what you prefer.
Hélène is currently not instructing any classes.