Linn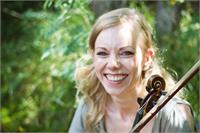 Linn Lillsunde was born into a Buddhist family in Stockholm in 1981. After a three-month long pilgrimage to Nepal and India (where she met the Dalai Lama), she started meditating on a daily basis at the age of 12. At 19 she visited Tibet, to which she returned in 2015 in order to circumambulate Mount Kailash. She completed the ngöndro - the Buddhist preliminary practices including 100 000 each of prostrations, mantra recitations, mandala offerings and Guru Yoga - at the age of 26. In 2010 she met Dr. Reginald Ray, PhD, in Crestone, Colorado, and became his student in the Dharma Ocean lineage, which is keeping alive the teachings of Chögyam Trungpa Rinpoche.

Over the years, Linn has spent a lot of time in retreat, including a three-month solitary retreat in the Rocky Mountains. She is a Vajrayana practitioner, well versed in the Tibetan tantric tradition, and she is a certified Meditation Instructor.
Linn is a professional violinist who studied and lived in London for seven years. She volunteered as a music teacher in the Amazon region of Northern Brazil, before deciding to move to Paris in 2013, where she now works as a violin teacher and performer.

When she is not playing music or meditating you'll most likely find her either on a horseback or in a salsa club...!


Linn is currently not teaching any regular classes with us.
Linn is currently not instructing any classes.