Susie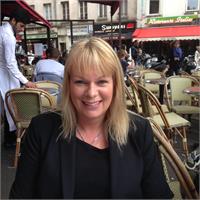 Susie is from Aberdeenshire, Scotland and first came to Paris 5 years ago to visit friends and
fell in love with the city. After visiting on numerous occasions her husband, Mick, was
offered the opportunity to relocate and the rest is history.

She has a vast experience and knowledge in all aspects of fitness, initially training in Aerobic Dance and Gymnasium Instruction, before moving on to the Mind/Body disciplines of Chi Ball, Pilates and Yoga, gaining the Pilates Institute of London certificate in 2005 and completing CYS 200 hour certificate in Yoga in 2006.

She has a particular interest in seasonal Yoga and working within the principles of Traditional Chinese Medicine to gain equilibrium in both mind and body.

Susie aims to make everyone feel welcome in class and encourages people of all abilities to fulfill their fitness goals. Her classes are structured with lots of options, so whether you are a beginner or more advanced student, the class will be suitable for you.

Susie instructs the following: Pilates and Core Fusion - 60mins
The aim of this class is to strengthen the core muscles which support the abdominals and lower back as well as create strength and flexibility throughout the body. The focus is on creating good body posture and gaining a long, lean look to the muscles. All levels are welcome, so do not be afraid to come along and try. It's fun!!
Susie instructs the following:
CLASS DESCRIPTION

Pilates is a system of controlled exercises that engage the mind and condition the total body. The blend of strength and flexibility training improves posture, reduces stress, and creates long, lean muscles without bulking up. Pilates takes a balanced approach so that no muscle group is overworked and the body moves as an efficient, holistic system in sport and daily activity.

These classes are guaranteed to strengthen your abs, burn fat and sculpt your body!

This class is taught in English, most of our teachers do speak some French, don't hesitate to ask for help understanding.

Le Pilates est une pratique qui renforce le corps entier, sans trop travailler une partie ni oublier une autre. Le mélange d'exercises de force et de souplesse améliore la posture, réduit le stresse et sculpte les muscles. Le cours est en anglais mais n'hésitez pas à demander des précisions si vous ne comprenez pas. Prenez votre tapis de yoga ou une serviette, une bouteille d'eau. Ce cours est pratiqué pieds nus et il est ouverts à tous.

WHAT TO WEAR

-Comfortable clothes that don't restrict movement

-This class is generally practiced barefoot

*Showers and designated changing facilities available only at Studio Bleu in 75009; all other indoor locations have restroom facilities available for changing.

WHAT TO BRING WITH YOU

-Mat or towel (there are no mats available to borrow in the spaces)

-Water Bottle

-Optional - Yoga props - blocks, straps, cushions, etc

*Yoga mats are available for purchase for 24€. Non-toxic materials, variety of colors, size: 63cm x 183cm. Follow link to purchase:

http://clients.mindbodyonline.com/classic/ws?studioId=39852&stype=43&prodid=10162

Mats can be delivered to our classes in the locations in 75001 (St. Roch) and 75009 (Studio Bleu). Once ordered, email support@affordableyogafitness.com, and let us know during which class and at which location you would like to pick up your mat. Please bring your receipt to the class. In some cases a few days notice may be needed to make sure the mat is at the class, so we appreciate your patience if and when this happens.

CLASS LEVEL

This class is open to every level of practitioner from beginners on up. Our instructors give careful guidance to ensure that everyone is comfortable in the foundation of the posture, and modifications to increase or decrease the intensity of each position will be available. Feel free to ask for modifications.

DIRECTIONS

Please verify class location or address on our schedule as we have several venues in Paris:

http://www.affordableyogafitness.com/apps/mindbody/list-schedule

Location details can be found on the 'Contact Us' page:

http://www.affordableyogafitness.com/pages/contact

When you enter the building, look to follow the Affordable Yoga signs to your specific room.

Any problems, follow link for teacher's phone numbers:

http://www.affordableyogafitness.com/pages/contact

*Please note that there is limited mobile phone reception at the studios. If you need to contact the instructor, please do so at least 20 minute before the start of class. Since our teachers will be busy checking in students with their personal smartphones starting 15 minutes before class, please send a text as opposed to calling as they will most likely not be able to take a call. No communication will be possible after the start time of class.

HEALTH SCREENING

Please notify your instructor if you have undergone any recent surgeries or are currently experiencing any physical injuries. While yoga has many very beneficial health effects, we want to know how to best work with each of our student's individual restrictions. Please consult a doctor if you have any personal concerns about practicing yoga.