Eliza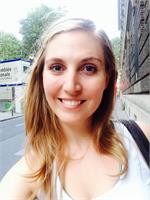 French speaking
Eliza moved to Paris in 2009 to further her training as an actress specializing in clown, mime, acrobatics and physical theatre.
Eliza grew up in Melbourne, Australia surfing, sailing, running, swimming, and all-round being outdoors. As a youth she competed as a gymnast in Victoria and afterwards moved towards soccer, hockey and netball. Realizing to her dismay that ball sports were not her forte, she was drawn to long distance running, athletics and rowing.
It was the boot camp style fitness training that she received that she loved the most. She loves to motivate people to achieve their goals, improve their well being and overall fitness and health. She is passionate about fitness and health, currently also training as a drama therapist, a vegetarian herself, and is keen to share this passion with others through her boot camp classes!
Students can expect a group training program that focuses on a full body work out including cardio and strength training. The group atmosphere will accomodate those who need that extra motivation to work out, complimented with the great social aspect.
An actress to the core, you can be sure that Eliza's classes will be well animated!
Eliza instructs the following: