Yoga Dance Fusion
This class is taught by: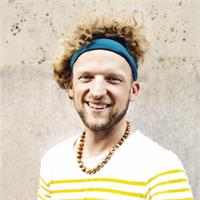 Benjamin is a Texas-Born World-Resident with a life-long relationship to movement and energy. A student of theater, dance, and gymnastics since the age of four, his yoga practice initially blossomed in the sand and sun of Barcelona where his 'Beach Bikram' classes took off. Having lived in Los Angeles and New York City, Benjamin gainined his RYT 200hr Yoga Teacher certificate in Dallas, and came straight to Paris following Love and Life's Adventures.
For Benjamin, yoga is truly a practice of Union with ourselves, with each other, and with the Divine, resonant in All. His classes utilize the flowing pace of traditional Vinyasa technique with an infusion of his studies as a modern day Urban Shaman focusing on the inner journey, energy harmonization, and intentional manifestation. Beginners will love his accessible approach while experienced yogis are certainly in for something refreshing and new.

The format for Benjamin's classes has been well-described as 'Rainbow Yoga', meaning that the seven Chakra energy centers within each of our bodies are the foundation and focus of his series. These resonating energetic vortexes are paired with appropriate traditional yoga postures to awaken and purify the physical as well as energy bodies. The seven Elements of Earth, Water, Fire, Air, Sound, Light and Thought are also incorporated for a joyful time of self-healing, counterbalance, and exploration of the infinite Here and Now.

While it may sound different from the standard class structure, students find Benjamin's offering as a delightful addition to their regular yoga practice and an excellent opportunity to expand their daily routine.

For more information on Benjamin's additional activities, check out his MeetUp group: http://www.meetup.com/Namaste-Adventures/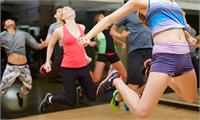 Yoga Dance Fusion merges the dynamic, moving energy of a Zumba class with a variety of musical genres and dance styles whilst adding the foundations of Vinyasa Yoga in an atmosphere that's total fun. No previous dance experience is necessary, just the desire to move, sweat, stretch, and smile!
Every class will vary to explore the range of techniques from ballet, hip-hop, club, and salsa intended to raise the heart-beat and the spirit. Throughout the session, traditional Yoga postures will be included in the elements of simple, repeating choreography to expand your personal practice while teaching the body to find natural alignment throughout the day.
Come give it a try!
This class is held in English, most of our teachers do speak some French, don't hesitate to ask for help understanding.
Le Yoga Dance Fusion associe le dynamisme d'un cours de Zumba avec de la musique et des pas de danse et des postures de yoga vinyasa. C'est LE cours pour ceux qui veulent bouger, s'étirer et transpirer! La collection de postures mélangée à des styles de danse (hip hop, ballet, club, salsa) crée une vraie chorégraphie. Le cours est en anglais mais n'hésitez pas à demander de l'aide pour comprendre. Pas besoin d'un tapis de yoga, apportez une bouteille d'eau et des chaussures de sport.
WHAT TO WEAR
- Sturdy, comfortable sports shoes
- Yoga / Active wear that doesn't restrict movement
WHAT TO BRING
- Water (a must for this class!)
- Sweat Towel (recommended)
-
Yoga mats are NOT required
CLASS LEVEL

While the class is dynamic in nature, it can be adapted to any level of experience. You're in charge of how intense you go. Everyone is welcome.
DIRECTIONS

Please verify class location or address on our schedule as we have several venues in Paris:
http://www.affordableyogafitness.com/apps/mindbody/list-schedule
Location details can be found on the 'Contact Us' page:
http://www.affordableyogafitness.com/pages/contact
When you enter the building, look to follow the Affordable Yoga signs to your specific room.
Any problems, follow link for teacher's phone numbers:
http://www.affordableyogafitness.com/pages/contact
*Please note that there is limited mobile phone reception at the studios. If you need to contact the instructor, please do so at least 20 minute before the start of class. Since our teachers will be busy checking in students with their personal smartphones starting 15 minutes before class, please send a text as opposed to calling as they will most likely not be able to take a call.
No communication will be possible after the start time of class.


HEALTH SCREENING
Please notify your instructor if you have undergone any recent surgeries or are currently experiencing any physical injuries. While yoga has many very beneficial health effects, we want to know how to best work with each of our student's individual restrictions. Please consult a doctor if you have any personal concerns about practicing yoga or fitness.
Upcoming classes: