Meditation Techniques and Practice - 60 minutes
This class is taught by: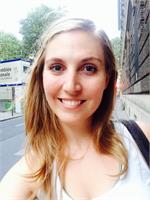 French speaking
Eliza moved to Paris in 2009 to further her training as an actress specializing in clown, mime, acrobatics and physical theatre.
Eliza grew up in Melbourne, Australia surfing, sailing, running, swimming, and all-round being outdoors. As a youth she competed as a gymnast in Victoria and afterwards moved towards soccer, hockey and netball. Realizing to her dismay that ball sports were not her forte, she was drawn to long distance running, athletics and rowing.
It was the boot camp style fitness training that she received that she loved the most. She loves to motivate people to achieve their goals, improve their well being and overall fitness and health. She is passionate about fitness and health, currently also training as a drama therapist, a vegetarian herself, and is keen to share this passion with others through her boot camp classes!
Students can expect a group training program that focuses on a full body work out including cardio and strength training. The group atmosphere will accomodate those who need that extra motivation to work out, complimented with the great social aspect.
An actress to the core, you can be sure that Eliza's classes will be well animated!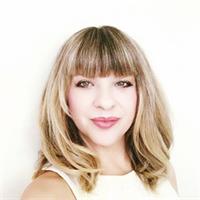 Maja Savic is a professional vocalist, voice teacher, Reiki Master (Rainbow Reiki School by Walter Lübeck), healer, motivator and a soon to-be certified Yoga instructor (TT200) from Divya Yoga School (Multistyle).
Originally from Croatia, after a few years of frequent visiting she moved to Paris in 2014 where she teaches singing, holds workshops for singers as well as relaxation techniques to help reduce stress in every-day life. She was initiated into Transcendental Meditation as well as Tibetan Meditation in 1999 and has always been a supporter of Meditation as a meaningful tool to connect with your Inner Self and live a more peaceful life. In 2012 she completed the Art of Living course (by Sri Sri Ravi Shankar) and now uses Sudarshan Kriya technique as her home practice. Yoga has been present in her life since 1997 when she started practicing Yoga in Everyday Life. In the following years she has been trying out different types of Yoga, and exploring more during her teacher training in Croatia, but has chosen the path of traditional hatha Yoga, by Sri Dharma Mittra, called Dharma Yoga. She plans to specialize in this field in the future and hopes to spread these teachings.
She combines techniques used for voice teaching, Yogic techniques with the focus on breath, personalized meditations, affirmations and Reiki treatments to improve health - body, mind and soul, learn to relax and de-stress, connect with your true self and attract what you want in life. She is a promotor of positive thinking, healthy living, who likes to inspire and motivate others to live fully and follow their heart.

Maja is currently not teaching any regular classes with us.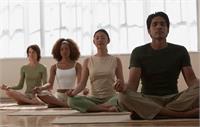 The very purpose of our physical yoga practice is to prepare the mind for purposeful concentration. We move and stretch the body so that when we sit for meditation, we are able to be still and calm. The door to this state is our intention. The key to that door is our breath.

In this class we will be exploring the different available meditation techniques ranging from Mantra Repetition, Mudra Hand Positions, Chakra Energy Stimulation, Guided Visualization, and Yoga Nidra / Rest. Each of these ancient practices are intimately connected to the conscious regulation of our inhales and exhales known as Pranayama.

During the session, you will be invited to discover the power of focused group practice to be continued in your private meditation practice.
This class is held in English, most of our teachers do speak some French, don't hesitate to ask for help understanding.

Le but du yoga (physique) est de préparer le corps à rester tranquille pendant la méditation. Dans ce cours nous entrons à l'intérieur de nous mêmes en utilisant plusieurs techniques comme les Mantras, Mudras, Yoga Nidra, Visualisations Guidées et stimulation des chakras. Une grande partie du cours est consacré à la respiration. Comme on ne bouge pas beaucoup dans ce cours, prenez des chaussettes, un coussin si vous voulez et un tapis de yoga. Cours ouvert à tous.

WHAT TO BRING WITH YOU
- Mat, cushion, or something soft to sit on. There are no mats available to borrow in the spaces, but as we will be seated for 90 minutes, you will want to bring something to make it comfy. Chairs will be available
- Water Bottle
- Notepad and pencil/pen (recommended)
*Yoga mats are available to purchase for 24€ each. Non-toxic materials, variety of colors, size: 63cm x 183cm. Follow link to our online store to purchase:
http://clients.mindbodyonline.com/classic/ws?studioId=39852&stype=43&prodid=10162
Mats can be delivered to our classes in the locations in 75001 (St. Roch), 75015 (Etienne Pernet) and 75009 (Studio Bleu). Once ordered, email support@affordableyogafitness.com, and let us know during which class and at which location you would like to pick up your mat. Please bring your receipt to the class.
In some cases a few days notice may be needed to make sure the mat is at the class, so we appreciate your patience if and when this happens.


WHAT TO WEAR
- Throughout the class we will make some mild stretches to keep the blood flowing, but full yoga gear is not necessary. This class can be practiced in your day clothes, and it is always advisable to be comfortable in what you are wearing to avoid any mind distractions.


CLASS LEVEL
We are all at unique places within our own specific journeys. This class will meet you right where you are. Everyone is welcome to join.


DIRECTIONS
Please verify class location or address on our schedule as we have several venues in Paris:
http://www.affordableyogafitness.com/apps/mindbody/list-schedule
Location details can be found on the 'Contact Us' page:
http://www.affordableyogafitness.com/pages/contact
When you enter the building, look to follow the Affordable Yoga signs to your specific room.
Any problems, follow link for teacher's phone numbers:
http://www.affordableyogafitness.com/pages/contact
*Please note that there is limited mobile phone reception at the studios. If you need to contact the instructor, please do so at least 20 minute before the start of class. Since our teachers will be busy checking in students with their personal smartphones starting 15 minutes before class, please send a text as opposed to calling as they will most likely not be able to take a call.
No communication will be possible after the start time of class
.


HEALTH SCREENING
Please notify your instructor if you have undergone any recent surgeries or are currently experiencing any physical injuries. While yoga has many very beneficial health effects, we want to know how to best work with each of our student's individual restrictions. Please consult a doctor if you have any personal concerns about practicing yoga or fitness.
Upcoming classes: