Outdoor Core Strengthening- Tuileries
This class is taught by: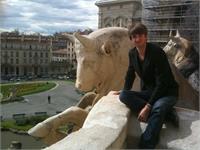 Ben has been practicing yoga and meditation since his teenage years, when he was introduced to the practice by his father, who owned a yoga studio in Philadelphia. While enrolled at Peabody Conservatory to study classical guitar, he spent a summer at the Omega Institute, where he had a life-changing experience in meeting Lama Surya Das, a lama in the Tibetan Buddhist tradition, with whom he has undertaken numerous silent meditation retreats.
Ben moved to Paris in the summer of 2013 and soon discovered Affordable Yoga in Paris. Resolving shortly after to take a yoga teacher training in order to strengthen his practice, he completed a 200-hour RYT in July 2014 at the Asheville Yoga Center in Asheville, NC.
In addition to yoga, Ben is passionate about music, regularly giving concerts as well as sharing his improvisations and songs in yoga and meditation classes. He has appeared at the Buddhist Geeks festival, the Buddhafest film festival, and in retreats with Lama Surya Das and Krishna Das, in addition to concert halls and venues on three continents. Ben offers a vinyasa flow with emphasis on the breath and how to integrate the practice into daily life.
CLASS DESCRIPTION
From rising out of bed in the morning to putting ourselves back to sleep at night, we use our core muscles to fuel most, if not all, daily actions- both from simple and unconscious like picking something up off the ground, to complex and deliberate like participating in sports. This class is designed to strengthen and lengthen the core muscles 360 degrees around the abdomen.
Accessible for all levels, be prepared to work at the pace and intensity your body dictates.
DIRECTIONS
As our usual indoor location is closed for summer holidays, this class will take place outside in the beautiful Tuileries Garden. We will meet outside the Metro Tuileries, and about 5 minutes before the scheduled start time, we will walk over to the lawns between the the Museum des Arts Decoratifs and the Louvre School of Art. So for those arriving late, come find us there!
Any problems, follow link for teacher's phone numbers:
http://www.affordableyogafitness.com/pages/contact
REFUND POLICY
Refunds back onto credit cards will only be given in very special and specific circumstances and/or if the reason for the refund is caused by Affordable Yoga. In other circumstances where a refund is requested, it can be given in the form of class credit into your online account.
You may cancel your reservation up until 60 minutes before the class and receive credit back into your account to use later.
WHAT TO BRING WITH YOU
-Mat or towel (there are no mats available to borrow in the spaces)
-Water Bottle (recommended)
-Optional - Yoga props - blocks, straps, cushions, etc
*Yoga mats are available for purchase for 20€. Non-toxic materials, variety of colors, size: 63cm x 183cm. Follow link to purchase: http://clients.mindbodyonline.com/classic/ws?studioId=39852&stype=43&prodid=10162
Mats can be delivered to our classes in the locations in 75001 (St. Roch) and 75009 (Studio Bleu). Once ordered, email anna@affordableyogafitness.com, and let us know during which class and at which location you would like to pick up your mat. Please bring your receipt to the class.
In some cases a few days notice may be needed to make sure the mat is at the class, so we appreciate your patience if and when this happens.
WHAT TO WEAR
-Comfortable clothes that don't restrict movement
-This class is generally practiced barefoot
*Showers and designated changing facilities available only at Studio Bleu in 75009; all other indoor locations have restroom facilities available for changing. Outdoor classes in the parks do not have changing facilities.
CLASS LEVEL
Unless specified in class title, classes are adapted to all levels from beginner to intermediate. All are welcome to join!
LANGUAGES
If English is not your first language, explanations in French will be possible as well.
HEALTH SCREENING
Although yoga has many very beneficial health effects, please consult a doctor if you have any personal concerns about practicing yoga.