Gentle Yoga
This class is taught by: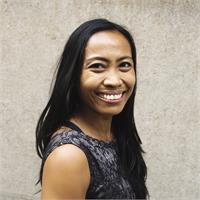 Atie is from Indonesia and claims that she is still pure Indonesian even after living in Tokyo, New York and now Paris. She earned her 200 hour yoga teacher certification and Level 1 Restorative certification from Yogaworks in New York. Following her loving husband, she arrived in Paris in November of 2015.

Her personal fitness regime includes dance classes, CrossFit, and weight lifting. However, yoga is her passion and stable foundation wherever she happens to be living. According to Atie her experience in yoga brings enlightenment and liberation for her being, and her practice is the ultimate journey to herself: body, mind and soul.

She has taught corporate/group classes as well as private clients in New York and Jakarta. Her style when guiding Vinyasa and Hatha Yoga classes is energizing, challenging, and playful and at the same time calming and nurturing. She believes that a smile is as important as the breath. "Yoga is for everybody and every body", and she encourages students not hesitate to ask her about postures and their modifications.

Her exploration of Yoga extends to other styles such as Iyengar, Dharma Yoga and Ashtanga. Patanjali's "Yoga Sutras" is the book of choice that she is always returning to, and that she brings with her wherever she travels.

As happy as she is in all of her other fitness endeavors she is on the lookout for a Badminton partner, so get in touch with her if you would like to play!
French speaking
Louise is originally from England, where she grew up in beautiful Cornwall. In 2001 she moved over to Brittany and in 2009 Louise moved to Paris for her job as store manager in an organic Naturalia shop. After leaving this stressful and exhausting job, Louise decided to stay and teach yoga in Paris.
Louise is a huge fan of cooking and eating! As a vegetarian, she combines flavours, spices and origines to create a colourful, healthy, international fusion.
She loves to travel, to meet new people, discover places, ideas, and collecting recipes where ever she goes.
Louise followed an intensive 200h classical yoga teacher training in Spain in 2013. This is where she learned the basics of alignment and asana, aswell as breathing and relaxation techniques and meditation.
In 2015, Louise followed one of her inspiring teachers in a ten week ayurveda course, the Dinacharya, where she discovered the basics of ayurveda and how to bring it into everyday life to live a more peaceful, happy and healthy life. She has also studied crystal healing, Korean relaxation massage and Reiki.
In her own practice, Louise enjoys the natural mix of subtle and dynamic movement. Being on her mat and listening to her body and practicing what it asks for. She especially loves the energy created in a slow, mindful, expansive flow which balances both the body, the mind and the more subtle elements of the self.
As much as possible Louise moves from the heart when on the mat, she also reminds herself regularly to smile and have fun !
In the past few years, breath work and mantra have eased themselves into her practice, as well as self massage and gratitude.
Louise's classes are light hearted with a positive and optimistic vibe. She encourages students to listen to their body, to feel their breath and to relax into each posture.
In each class Louise focuses on alignment, grounding and expanding. Falling over, cracking joints and laughter are all welcome in her classes which begin with intention and finish in gratitude.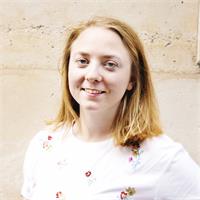 French speaking
Juliette was born in Paris and lived there until she was 17 years old. She then moved to Reims, Aix-en-Provence, Mexico city and then to Montreal before coming back to Paris 2 years ago to work in sustainable development.
Off the mat, Juliette is working full time to set sustainable projects in the business world. She loves to cook, travel, meet new people and find new alternatives to overconsumption!
Juliette completed a 200hr vinyasa yoga training : Expansion Freedom Voice by Janelle Olliel Waters and Amanda Dates in Paris.
Juliette created with her sister Pauline (also a vinyasa yoga teacher) SisterWood Yoga sisterwoodyoga.com
Juliette wants to make yoga accessible to most people. The main objective is to take time for ourself and have fun!
Juliette teaches dynamic vinyasa classes on music integrating asanas and core work to build a sustainable practice and reach one goal : Progress, not perfection.
Are you looking for a peaceful practice to bring you into a deep sense of unity with your body? Would you prefer a graceful opportunity to move and breathe? If so, please come join this class where the focus will be on steadily finding deep flexibility, particularly in the low back, hips and hamstrings, often our tightest spots. We will take significant time in each posture, and move at an effortless, relaxed pace.
This class is taught in English, most of our teachers do speak some French so don't hesitate to ask for help understanding.

Vous avez envie de prendre votre temps au cours, de ne pas pousser votre corps trop loin? Dans ce cas ce cours est pour vous. Le cours de Yoga Doux donne le temps à votre corps de s'ouvrir en douceur en travaillant la souplesse du dos, des jambes et des hanches. Le rythme de ce cours est fluide et relaxant. Apporter votre tapis de yoga ou une serviette et une bouteille d'eau. Le cours est pratiqué pieds nus avec des vêtements souples.
WHAT TO WEAR
-Comfortable clothes that don't restrict movement
-This class is generally practiced barefoot
*Showers and designated changing facilities available only at Studio Bleu in 75009; all other indoor locations have restroom facilities available for changing.


WHAT TO BRING WITH YOU
-Mat or towel (there are no mats available to borrow in the spaces)
-Water Bottle
-Optional - Yoga props - blocks, straps, cushions, etc
*Yoga mats are available to purchase for 24€ each. Non-toxic materials, variety of colors, size: 63cm x 183cm. Follow link to purchase:
http://clients.mindbodyonline.com/classic/ws?studioId=39852&stype=43&prodid=10162
Mats can be delivered to our classes in the locations in 75001 (St. Roch) and 75009 (Studio Bleu). Once ordered, email support@affordableyogafitness.com, and let us know during which class and at which location you would like to pick up your mat. Please bring your receipt to the class. In some cases a few days notice may be needed to make sure the mat is at the class, so we appreciate your patience if and when this happens.


CLASS LEVEL
This class is open to every level of practitioner from beginners on up. No previous knowledge or work with the Chakra Energy system is required. Our instructor gives careful guidance to ensure that everyone is comfortable in the foundation of the posture, and modifications to increase or decrease the intensity of each position will be available. Feel free to ask for modifications.


DIRECTIONS
Please verify class location or address on our schedule as we have several venues in Paris:
http://www.affordableyogafitness.com/apps/mindbody/list-schedule
Location details can be found on the 'Contact Us' page: http://www.affordableyogafitness.com/pages/contactWhen you enter the building, look to follow the Affordable Yoga signs to your specific room.
Any problems, follow link for teacher's phone numbers:
http://www.affordableyogafitness.com/pages/contact
*Please note that there is limited mobile phone reception at the studios. If you need to contact the instructor, please do so at least 20 minute before the start of class. Since our teachers will be busy checking in students with their personal smartphones starting 15 minutes before class, please send a text as opposed to calling as they will most likely not be able to take a call. No communication will be possible after the start time of class.


HEALTH SCREENING
Please notify your instructor if you have undergone any recent surgeries or are currently experiencing any physical injuries. While yoga has many very beneficial health effects, we want to know how to best work with each of our student's individual restrictions. Please consult a doctor if you have any personal concerns about practicing yoga.
Upcoming classes: