Yoga @ Ecocentrique Festival
This class is taught by:
Atie is from Indonesia and claims that she is still pure Indonesian even after living in Tokyo, New York and now Paris. She earned her 200 hour yoga teacher certification and Level 1 Restorative certification from Yogaworks in New York. Following her loving husband, she arrived in Paris in November of 2015.

Her personal fitness regime includes dance classes, CrossFit, and weight lifting. However, yoga is her passion and stable foundation wherever she happens to be living. According to Atie her experience in yoga brings enlightenment and liberation for her being, and her practice is the ultimate journey to herself: body, mind and soul.

She has taught corporate/group classes as well as private clients in New York and Jakarta. Her style when guiding Vinyasa and Hatha Yoga classes is energizing, challenging, and playful and at the same time calming and nurturing. She believes that a smile is as important as the breath. "Yoga is for everybody and every body", and she encourages students not hesitate to ask her about postures and their modifications.

Her exploration of Yoga extends to other styles such as Iyengar, Dharma Yoga and Ashtanga. Patanjali's "Yoga Sutras" is the book of choice that she is always returning to, and that she brings with her wherever she travels.

As happy as she is in all of her other fitness endeavors she is on the lookout for a Badminton partner, so get in touch with her if you would like to play!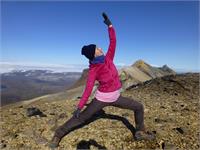 French speaking
Katie is from Denver, CO and was brought appropriately to Paris, the city of love, in 2013 by following her heart and marrying a Frenchman.
Off the yoga mat, she is a member of a wall-climbing club, which has enabled her to pursue outdoor rock climbing and bouldering. She also holds a master's degree in opera performance, and still performs from time to time in addition to teaching regular music foundation classes to children.

She has been a certified yoga teacher since 2012 when she completed a 200-hour program with Core Power Yoga, a Yoga Alliance registered studio. She later finished training programs with Next Generation Yoga for Kids, to share her practice with younger yoginis, and The Institut de Gasquet for pre and post-natal yoga.

During her yoga classes, one can expect to have a light hearted and playful session while maintaining the integrity of yogic tradition. She purposefully centers each class around a theme, encouraging everyone, including herself, to take the practice deeper than the physical level and to take what they have gained during the session out the door with them. To follow Katie's regular teaching schedule, please subscribe to the group: Katie's Yoga on Facebook:

https://www.facebook.com/groups/409692662426904/
Si vous êtes nouveau au yoga, ou si vous souhaitez tout simplement profiter du nouveau des concepts fondamentaux tels que l'alignement dans les postures, le souffle, alors venez nous rejoindre! Le cours se déroule dans un rythme modéré à doux avec beaucoup d' explications et précisions pour vous aider à sentir et déterminer la meilleure façon de situer votre corps dans chaque posture. Ce cours vous offrira également la confiance et de la connaissance dans la préparation pour les cours plus rapides et plus avancées.