Intermediate Vinyasa Flow Yoga
This class is taught by: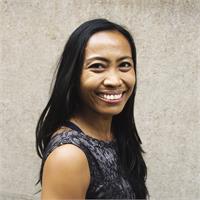 Atie is from Indonesia and claims that she is still pure Indonesian even after living in Tokyo, New York and now Paris. She earned her 200 hour yoga teacher certification and Level 1 Restorative certification from Yogaworks in New York. Following her loving husband, she arrived in Paris in November of 2015.

Her personal fitness regime includes dance classes, CrossFit, and weight lifting. However, yoga is her passion and stable foundation wherever she happens to be living. According to Atie her experience in yoga brings enlightenment and liberation for her being, and her practice is the ultimate journey to herself: body, mind and soul.

She has taught corporate/group classes as well as private clients in New York and Jakarta. Her style when guiding Vinyasa and Hatha Yoga classes is energizing, challenging, and playful and at the same time calming and nurturing. She believes that a smile is as important as the breath. "Yoga is for everybody and every body", and she encourages students not hesitate to ask her about postures and their modifications.

Her exploration of Yoga extends to other styles such as Iyengar, Dharma Yoga and Ashtanga. Patanjali's "Yoga Sutras" is the book of choice that she is always returning to, and that she brings with her wherever she travels.

As happy as she is in all of her other fitness endeavors she is on the lookout for a Badminton partner, so get in touch with her if you would like to play!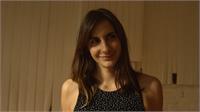 Rachelle comes to Paris from Vancouver Canada, where she had the pleasure of teaching a wide range of yoga classes over the course of eight years.

She trained in India with the Sivananda School in Kerala in 2007, and at the Krishnamacharya Yoga Mandiram in Chennai in 2011 to study yoga Classical Philosophy and the yoga style of Krishnamacharya. One of her greatest teacher influences is Rod Stryker with whom she has completed a training and workshops. She is also influenced by the work of Jill Miller and completed a Yoga Tune Upâ training in 2013.

She combines her studies of yoga and background in Wellness to assist students to achieve balance in their lives.

She teaches four different styles of yoga (Hatha, Vinyasa, Yin and Restorative) as well as Yoga Nidra and Meditation. Her classes are grounded in stability and awareness, she guides students to use their breath in order to find space in their minds and to go deeper into their bodies. Her classes incorporate biomechanics in equal measure to drawing upon awareness of energetics to move blockages.

Rachelle is a lover of cycling, books, life stories, French food and film, psychology, the ocean and chocolate.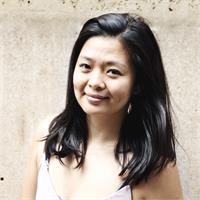 Yun loves all kinds of movement. She dedicates most of her time to practicing and teaching yoga and meditation, then the rest to pilates, barre method and many other types of expressive, intelligent movement. Yun also enjoys cooking up new salad recipes, blending smoothies and taking very long walks in nature.

She loves the practice of yoga simply because you can start wherever you are. It does not matter what injuries one has, how much one can bring hands to touch the toes or how many handstands one can do in a minute. As long as you want to, you can, but with adequate lessons and attention. With 6 years of yoga teaching and 11 years of mat practice, she is extremely humbled to guide yogis in Paris through the knowledge she has received from her teachers over the years.

Her influence includes teachings from the Anusara method, Ashtanga Vinyasa, Yin Yoga, Jivamukti and AcroYoga.

Yun does not currently teach any regular classes with us.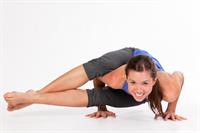 This class is for those who are wishing to progress their yoga practice on a more advanced level. The intermediate level offering will follow a similar format as our 'All Levels' Vinyasa Flow classes, but will include a series of more advanced postures, shorter breaks in between sequences, and for those who are hoping to attend on a regular basis, an element of progression.

The class is suitable for all who have been practicing yoga for a substantial period of time, feel confident about the basic yoga techniques, and would like to challenge themselves further.

The class will include less verbal descriptions of how to get into postures but rather more guidance on how to perfect and progress them once you are holding and transitioning through the asanas.
This class is held in English, most of our teachers do speak some French, don't hesitate to ask for help understanding.

Ce cours est pour ceux qui ont envie de progresser plus dans leur pratique de yoga. Le style du cours sera le même que les cours ouverts à tous, mais avec des séries de postures plus avancées, des temps de pause plus courts, pour ceux qui viennent régulièrement le cours apportera un élément de progression.
Le cours est bien pour ceux qui pratiquent le yoga depuis un moment, qui sont à l'aise das les techniques de base et qui veulent se pousser plus loin. Il y a moins de précisons verbales pour comment entrer dans une posture, mais plus de précisions à comment aller plus loin dans la posture même. Le cours est en anglais, mais n'hésitez pas à demander de l'aide à comprendre. Apportez votre votre tapis de yoga ou une serviette et une bouteille d'eau.
WHAT TO WEAR
-Comfortable clothes that don't restrict movement
-This class is generally practiced barefoot
*Showers and designated changing facilities available only at Studio Bleu in 75009; all other indoor locations have restroom facilities available for changing.
WHAT TO BRING WITH YOU
-Mat or towel (there are no mats available to borrow in the spaces)
-Water Bottle
-Optional - Yoga props - blocks, straps, cushions, etc
*Yoga mats are available to purchase for 24€ each. Non-toxic materials, variety of colors, size: 63cm x 183cm. Follow link to purchase:
http://clients.mindbodyonline.com/classic/ws?studioId=39852&stype=43&prodid=10162
Mats can be delivered to our classes in the locations in 75001 (St. Roch), 75015 (Etienne Pernet) and 75009 (Studio Bleu). Once ordered, email support@affordableyogafitness.com, and let us know during which class and at which location you would like to pick up your mat. Please bring your receipt to the class. In some cases a few days notice may be needed to make sure the mat is at the class, so we appreciate your patience if and when this happens.


CLASS LEVEL
This class is specifically intended for the well practiced yogi. Don't be intimidated if you feel you have a solid understanding of the postures and would like to step it up a notch. We just don't want anyone to walk into their first yoga class and think that it's not for them. If you would like a more foundation building class, almost all of our other offerings are aimed toward being 'All Level' or designated as 'Beginner/Improver'.
DIRECTIONS
Please verify class location or address on our schedule as we have several venues in Paris:
http://www.affordableyogafitness.com/apps/mindbody/list-schedule
Location details can be found on the 'Contact Us' page:
http://www.affordableyogafitness.com/pages/contact
When you enter the building, look to follow the Affordable Yoga signs to your specific room.
Any problems, follow link for teacher's phone numbers:
http://www.affordableyogafitness.com/pages/contact
*Please note that there is limited mobile phone reception at the studios. If you need to contact the instructor, please do so at least 20 minute before the start of class. Since our teachers will be busy checking in students with their personal smartphones starting 15 minutes before class, please send a text as opposed to calling as they will most likely not be able to take a call.
No communication will be possible after the start time of class.


HEALTH SCREENING
Please notify your instructor if you have undergone any recent surgeries or are currently experiencing any physical injuries. While yoga has many very beneficial health effects, we want to know how to best work with each of our student's individual restrictions.
Please consult a doctor if you have any personal concerns about practicing yoga.
Upcoming classes: