Intermediate Vinyasa Flow Yoga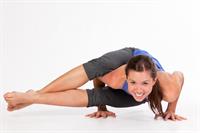 This class is for those who are wishing to progress their yoga practice on a more advanced level. The intermediate level offering will follow a similar format as our 'All Levels' Vinyasa Flow classes, but will include a series of more advanced postures, shorter breaks in between sequences, and for those who are hoping to attend on a regular basis, an element of progression.

The class is suitable for all who have been practicing yoga for a substantial period of time, feel confident about the basic yoga techniques, and would like to challenge themselves further.

The class will include less verbal descriptions of how to get into postures but rather more guidance on how to perfect and progress them once you are holding and transitioning through the asanas.
This class is held in English, most of our teachers do speak some French, don't hesitate to ask for help understanding.

Ce cours est pour ceux qui ont envie de progresser plus dans leur pratique de yoga. Le style du cours sera le même que les cours ouverts à tous, mais avec des séries de postures plus avancées, des temps de pause plus courts, pour ceux qui viennent régulièrement le cours apportera un élément de progression.
Le cours est bien pour ceux qui pratiquent le yoga depuis un moment, qui sont à l'aise das les techniques de base et qui veulent se pousser plus loin. Il y a moins de précisons verbales pour comment entrer dans une posture, mais plus de précisions à comment aller plus loin dans la posture même. Le cours est en anglais, mais n'hésitez pas à demander de l'aide à comprendre. Apportez votre votre tapis de yoga ou une serviette et une bouteille d'eau.
WHAT TO WEAR
-Comfortable clothes that don't restrict movement
-This class is generally practiced barefoot
*Showers and designated changing facilities available only at Studio Bleu in 75009; all other indoor locations have restroom facilities available for changing.
WHAT TO BRING WITH YOU
-Mat or towel (there are no mats available to borrow in the spaces)
-Water Bottle
-Optional - Yoga props - blocks, straps, cushions, etc
*Yoga mats are available to purchase for 24€ each. Non-toxic materials, variety of colors, size: 63cm x 183cm. Follow link to purchase:
http://clients.mindbodyonline.com/classic/ws?studioId=39852&stype=43&prodid=10162
Mats can be delivered to our classes in the locations in 75001 (St. Roch), 75015 (Etienne Pernet) and 75009 (Studio Bleu). Once ordered, email support@affordableyogafitness.com, and let us know during which class and at which location you would like to pick up your mat. Please bring your receipt to the class. In some cases a few days notice may be needed to make sure the mat is at the class, so we appreciate your patience if and when this happens.


CLASS LEVEL
This class is specifically intended for the well practiced yogi. Don't be intimidated if you feel you have a solid understanding of the postures and would like to step it up a notch. We just don't want anyone to walk into their first yoga class and think that it's not for them. If you would like a more foundation building class, almost all of our other offerings are aimed toward being 'All Level' or designated as 'Beginner/Improver'.
DIRECTIONS
Please verify class location or address on our schedule as we have several venues in Paris:
http://www.affordableyogafitness.com/apps/mindbody/list-schedule
Location details can be found on the 'Contact Us' page:
http://www.affordableyogafitness.com/pages/contact
When you enter the building, look to follow the Affordable Yoga signs to your specific room.
Any problems, follow link for teacher's phone numbers:
http://www.affordableyogafitness.com/pages/contact
*Please note that there is limited mobile phone reception at the studios. If you need to contact the instructor, please do so at least 20 minute before the start of class. Since our teachers will be busy checking in students with their personal smartphones starting 15 minutes before class, please send a text as opposed to calling as they will most likely not be able to take a call.
No communication will be possible after the start time of class.


HEALTH SCREENING
Please notify your instructor if you have undergone any recent surgeries or are currently experiencing any physical injuries. While yoga has many very beneficial health effects, we want to know how to best work with each of our student's individual restrictions.
Please consult a doctor if you have any personal concerns about practicing yoga.
Upcoming classes: