Hatha *Français* - 60min
This class is taught by:
French speaking
Louise is originally from England, where she grew up in beautiful Cornwall. In 2001 she moved over to Brittany and in 2009 Louise moved to Paris for her job as store manager in an organic Naturalia shop. After leaving this stressful and exhausting job, Louise decided to stay and teach yoga in Paris.
Louise is a huge fan of cooking and eating! As a vegetarian, she combines flavours, spices and origines to create a colourful, healthy, international fusion.
She loves to travel, to meet new people, discover places, ideas, and collecting recipes where ever she goes.
Louise followed an intensive 200h classical yoga teacher training in Spain in 2013. This is where she learned the basics of alignment and asana, aswell as breathing and relaxation techniques and meditation.
In 2015, Louise followed one of her inspiring teachers in a ten week ayurveda course, the Dinacharya, where she discovered the basics of ayurveda and how to bring it into everyday life to live a more peaceful, happy and healthy life. She has also studied crystal healing, Korean relaxation massage and Reiki.
In her own practice, Louise enjoys the natural mix of subtle and dynamic movement. Being on her mat and listening to her body and practicing what it asks for. She especially loves the energy created in a slow, mindful, expansive flow which balances both the body, the mind and the more subtle elements of the self.
As much as possible Louise moves from the heart when on the mat, she also reminds herself regularly to smile and have fun !
In the past few years, breath work and mantra have eased themselves into her practice, as well as self massage and gratitude.
Louise's classes are light hearted with a positive and optimistic vibe. She encourages students to listen to their body, to feel their breath and to relax into each posture.
In each class Louise focuses on alignment, grounding and expanding. Falling over, cracking joints and laughter are all welcome in her classes which begin with intention and finish in gratitude.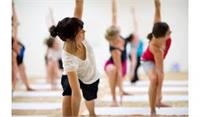 Le yoga Hatha intègre une série de postures tenues pour entre 30sec et 3mn. On utilise des postures de "repos" entre chaque asana. Ce style de cours incorpore toujours une profonde relaxation et des exercices de respiration, en plus de la pratique du yoga asanas / postures. Le rythme plus lent permet également une approche plus concentrée d'alignement du corps dans chaque pose. Ceci est une excellente occasion de se familiariser avec les postures traditionnelles qui sont utilisées dans les cours de Vinyasa qui est plus rapide.
Ce cours est en français. Si ce n'est pas votre langue maternelle, n'hésitez pas à demander des précisions au professeur.
Il se peut que nous ne pouvons pas toujours trouver des professeurs franco-phones disponibles pour faire des remplacements, dans ce cas le titre du cours sera modifié sur noter site, et un mail vous sera envoyé.

QUE PORTER

-Vêtements confortables qui permettent le mouvement facile.
-Ce cours est pratiqué pieds nus.
*Des douches sont disponibles uniquement à Studio Bleu 75009. Tous les studios ont un endroit pour se changer.


QUOI PRENDRE AVEC VOUS
-Tapis de yoga ou serviette (il n'y a pas de tapis dans les salles)
-Bouteille d'eau
-Blocks de yoga, ceintures ets si vous en voulez
*Des tapis de yoga sont disponible à 24€. Plusieurs couleurs et une taille de : 63cm x 183cm. Connectez vous pour en commander:
http://clients.mindbodyonline.com/classic/ws?studioId=39852&stype=43&prodid=10162
Les tapis peuvent être récupéré à 35 Rue St Roch, Etienne Pernet 75015 et Studio Bleu 75009. Veuillez arriver quelques minutes avant le début du cours et montrez votre reçu au professeur. Envoyez un mail à
support@affordableyogafitness.com
pour voir si des tapis sont encore disponibles.
NIVEAU DU COURS
Ce cours est ouvert à tous, même les débutants. Les professeurs peuvent donner des modifications pour intensifier ou faciliter les postures. N'hésitez pas à demander de l'aide auprès de votre professeur.
DIRECTIONS
Pour connaître l'adresse du cours :
http://www.affordableyogafitness.com/apps/mindbody/list-schedule
Plus de détails sur la salle et les directions:
http://www.affordableyogafitness.com/pages/contact
Quand vous entrez dans le bâtiment, cherchez des affiches "Affordable Yoga".
Si vous rencontrez des problèmes, vous pouvez contacter le professeur:
http://www.affordableyogafitness.com/pages/contact
*Attention: dans certains de nos studios le réseau n'est pas toujours possible. Si vous devez contacter votre professeur, veuillez le faire 20min avant le début du cours. Comme les professeurs sont occupés à faire l'appel en utilisant leur portable personnel commençant 15min avant le début du cours, veuillez envoyer un texto au lieux d'appeler. Aucune communication sera possible après le début du cours.
VOTRE SANTE
Veuillez parler à votre professeur si vous avez des problèmes de santé en particuliers. C'est important pour nous de savoir cela pour mieux vous aider à apprécier votre expérience. Si vous avez des doutes sur la possibilité de faire du yoga, parlez en à votre médecin.
Upcoming classes: