Detox Vinyasa Flow Yoga - Bilingual
This class is taught by: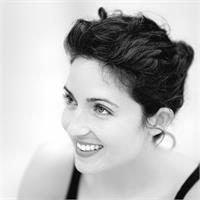 French speaking


Cole has been a life-long athlete & a yoga practitioner for the past 14 years. While working & living in NYC as a Fashion Designer for Victoria's Secret, she received her RYT200h Vinyasa Flow yoga certification from the prominent NYC yoga studio, Sonic Yoga, under the direction of Lauren Hana & Johanna Bell.
Cole has been active in studying a multitude of practices in the yoga community including Budokon with Cameron Shayne, Kundalini with Kia Miller, AyurYoga with Maria Garre and Forrest Yoga with Ana Forrest.
Cole's philosophy is, "If it's not fun, don't bother". Come sweat and laugh with Cole!

You can follow her on social media by searching "Pop Up Yoga Paris" as well as staying tuned in between yoga sessions with her new online series with Dailymotion @ www.dailymotion.com/PopUpYoga
French speaking
Céline spent the last 10 years abroad: in the USA, Swizerland and the UK. During the past 4 years she was enjoying life whilst teaching fitness classes in London including Zumba, Dance and Body&Mind classes. With some international experience in her pocket, she is now back in her home country of France, where she continues teaching fitness classes with a passion!
Céline is passionate about her job and her main interests are yoga and Dance. She likes to try new choreographies, classes and she loves sharing ideas about classes, postures and fitness practice.
She passed her sports diploma in Switzerland in 2011 where she became a Group Certified Instructor , reaching the required international professional standards for employment in the fitness industry. Céline soon after certified as a Zumba teacher and she also became a BodyBalance certified instructor. BodyBalance is a body & mind class that increases strentgh and flexibility, mixing tai- chi, yoga and pilates. This program combats anxiety and stress. It also improves cardio-respiratory function, promotes weight loss, and improves balance. It is especially recommended to practice during pregnancy.
Her teaching style varies depending on the type of class, but she always teaches from the heart. Students can expect to get a warm, efficient and professional workout in Céline's classes. She likes to connect with people in class, being herself, making jokes, and feeling the music (if any) to nail the workout.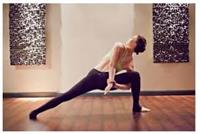 CLASS DESCRIPTION
This class will provide opportunity to take your practice into slow and purposeful, deeply opening postures with special attention on holding certain positions for a bit longer to increase flexibility. While there will still be a flowing element, additional focus will be given to the twists, binds, and inversions available within the yogic practice allowing for a powerful detoxification of the physical body. (So you probably want to wait until after class to have dinner...)
Come prepared to discover personal intimacy with breath and movement whilst consciously expanding flexibility and strength.

This class is held in English and French.

DESCRIPTION DU COURS
Ce cours sera l'occasion d'amener votre pratique dans des postures d'ouverture très lentes et réfléchies avec une attention particulière sur la tenue de certaines positions un peu plus longtemps pour augmenter la flexibilité. Bien qu'il y aura toujours un élément de flow, l'accent supplémentaire sera donnée aux torsions et inversions connus dans la pratique yogique permettant une désintoxication puissante du corps physique. (Donc, vous voulez probablement attendre après le cours pour dîner...)
Préparez-vous à découvrir l'intimité personnelle avec le souffle et le mouvement tout en développant consciemment la flexibilité et la force.

Ce cours est enseigné en Anglais et Français.

WHAT TO WEAR
-Comfortable clothes that don't restrict movement
-This class is generally practiced barefoot
*Showers and designated changing facilities available only at Studio Bleu in 75009; all other indoor locations have restroom facilities available for changing.


WHAT TO BRING WITH YOU
-Mat or towel (there are no mats available to borrow in the spaces)
-Water Bottle
-Optional - Yoga props - blocks, straps, cushions, etc
*Yoga mats are available to purchase for 24€ each. Non-toxic materials, variety of colors, size: 63cm x 183cm. Follow link to purchase:
https://affordableyogaaffordablefitness.liveeditaurora.com/pages/prices--packages
CLASS LEVEL
This class is open to every level of practitioner from beginners on up. Our instructors give careful guidance to ensure that everyone is comfortable in the foundation of the posture, and modifications to increase or decrease the intensity of each position will be available. Feel free to ask for modifications.


DIRECTIONS
As we rent space in several venues across Paris, please verify the class location as listed on our schedule:
http://www.affordableyogafitness.com/apps/mindbody/list-schedule
Location addresses and transportation details can be found on the 'Contact Us' page:
http://www.affordableyogafitness.com/pages/contact
When you enter the building, look for the Affordable Yoga signs to guide you to your specific room.
Any problems, follow link for teacher's phone numbers:
http://www.affordableyogafitness.com/pages/contact
*Please note that there is limited mobile phone reception at the studios. If you need to contact the instructor, please do so at least 20 minute before the start of class. Since our teachers will be busy checking in students with their personal smartphones starting 15 minutes before class, please send a text as opposed to calling as they will most likely not be able to take a call. No communication will be possible after the start time of class.
HEALTH SCREENING
Please notify your instructor if you have undergone any recent surgeries or are currently experiencing any physical injuries. While yoga has many very beneficial health effects, we want to know how to best work with each of our student's individual restrictions. Please consult a doctor if you have any personal concerns about practicing yoga.
Upcoming classes: