Outdoor Vinyasa/Yin Yoga - Tuileries, LEFT GROVE
This class is taught by:
French speaking
Louise is originally from England, where she grew up in beautiful Cornwall. In 2001 she moved over to Brittany and in 2009 Louise moved to Paris for her job as store manager in an organic Naturalia shop. After leaving this stressful and exhausting job, Louise decided to stay and teach yoga in Paris.
Louise is a huge fan of cooking and eating! As a vegetarian, she combines flavours, spices and origines to create a colourful, healthy, international fusion.
She loves to travel, to meet new people, discover places, ideas, and collecting recipes where ever she goes.
Louise followed an intensive 200h classical yoga teacher training in Spain in 2013. This is where she learned the basics of alignment and asana, aswell as breathing and relaxation techniques and meditation.
In 2015, Louise followed one of her inspiring teachers in a ten week ayurveda course, the Dinacharya, where she discovered the basics of ayurveda and how to bring it into everyday life to live a more peaceful, happy and healthy life. She has also studied crystal healing, Korean relaxation massage and Reiki.
In her own practice, Louise enjoys the natural mix of subtle and dynamic movement. Being on her mat and listening to her body and practicing what it asks for. She especially loves the energy created in a slow, mindful, expansive flow which balances both the body, the mind and the more subtle elements of the self.
As much as possible Louise moves from the heart when on the mat, she also reminds herself regularly to smile and have fun !
In the past few years, breath work and mantra have eased themselves into her practice, as well as self massage and gratitude.
Louise's classes are light hearted with a positive and optimistic vibe. She encourages students to listen to their body, to feel their breath and to relax into each posture.
In each class Louise focuses on alignment, grounding and expanding. Falling over, cracking joints and laughter are all welcome in her classes which begin with intention and finish in gratitude.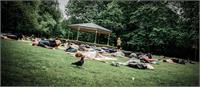 The purpose of this Vinyasa/Yin class is to use the dynamic flow of traditional yoga asanas/postures to warm up the body and release the tension of the week for the first 30 minutes of the class. The second half of the practice will be Yin based yoga, enabling the body and mind to wind down, in preparation for the weekend.

In Yin Yoga, the postures are floor-based and are held for longer periods of time (generally 3 to 8 minutes). This allows the body to relax into the postures, developing flexibility and serenity.
This class is held in English, most of our teachers do speak some French, don't hesitate to ask for help understanding.
Upcoming classes:
Sign Up

Fri

25 Aug 7:00 pm - 8:00 pm

with

Louise

Cutler