Outdoor Vinyasa Flow, 60min - Tuileries, LEFT GROVE
This class is taught by:
French speaking
Louise is originally from England, where she grew up in beautiful Cornwall. In 2001 she moved over to Brittany and in 2009 Louise moved to Paris for her job as store manager in an organic Naturalia shop. After leaving this stressful and exhausting job, Louise decided to stay and teach yoga in Paris.
Louise is a huge fan of cooking and eating! As a vegetarian, she combines flavours, spices and origines to create a colourful, healthy, international fusion.
She loves to travel, to meet new people, discover places, ideas, and collecting recipes where ever she goes.
Louise followed an intensive 200h classical yoga teacher training in Spain in 2013. This is where she learned the basics of alignment and asana, aswell as breathing and relaxation techniques and meditation.
In 2015, Louise followed one of her inspiring teachers in a ten week ayurveda course, the Dinacharya, where she discovered the basics of ayurveda and how to bring it into everyday life to live a more peaceful, happy and healthy life. She has also studied crystal healing, Korean relaxation massage and Reiki.
In her own practice, Louise enjoys the natural mix of subtle and dynamic movement. Being on her mat and listening to her body and practicing what it asks for. She especially loves the energy created in a slow, mindful, expansive flow which balances both the body, the mind and the more subtle elements of the self.
As much as possible Louise moves from the heart when on the mat, she also reminds herself regularly to smile and have fun !
In the past few years, breath work and mantra have eased themselves into her practice, as well as self massage and gratitude.
Louise's classes are light hearted with a positive and optimistic vibe. She encourages students to listen to their body, to feel their breath and to relax into each posture.
In each class Louise focuses on alignment, grounding and expanding. Falling over, cracking joints and laughter are all welcome in her classes which begin with intention and finish in gratitude.
Gillian is an American living in Paris for over a decade. Yoga became a major part of her life after giving birth to her son 10 years ago. Her practice has helped to maintain balance in her personal and professional life. Teaching for Gillian is a way to help others also find balance in the often hectic urban environment.

Also, as a student of Ayurvedic medicine, Gillian finds much joy in working with homeopathy as an alternative way of healing that is complementary to modern medicine. As a Reiki master, she has practiced the healing arts through touch and the redirection of energy in the body.

Gillian completed her Yoga training (200 RYT) at the Sivananda Ashram in Orleans, France. The Sivananda style is very traditional Hatha with a major focus on meditation and spirituality. Hatha is a slow and steady practice that helps build a strong body and mind while focusing on the breath and energy centers of the body. Gillian completed her Kundalini Yoga training with 3HO, the association formed by the Guru Yogi Bhajan to bring the practice of Kundalini to the West. Kundalini Yoga is called the Yoga of Awareness. It is a dynamic, powerful tool that is designed to give you an experience of your soul.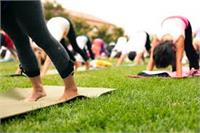 The purpose of a Vinyasa class is to link the traditional yoga asanas / postures together into a harmonious flow of transitioning positions while giving focus to active meditation. This could be considered a more 'active' class than our Hatha offerings. It is dynamic yet soft in nature, and relaxation is often reserved to the end of the session. The sequence of postures will vary from class to class, building on the fluid transitions of core asanas to develop strength, flexibility, balance and focus.
This class is held in English, most of our teachers do speak some French, don't hesitate to ask for help understanding.
Le but d'un cours de Vinyasa est de relier les asanas traditionnels/postures ensemble dans un flux harmonieux, tout en donnant l'accent à la méditation active. Cela pourrait être considéré comme un cours plus «actif» que nos cours de Hatha. Il est dynamique mais doux en nature, et la détente est souvent réservé à la fin de la session. La séquence de postures varie d'un cours à l'autre travaillant sur les transitions fluides d'asanas de base pour développer de la force, de la souplesse, de l'équilibre et de la concentration. Le cours est en anglais mais n'hésitez pas à demander des précisions au prof. Le cours est ouvert à tous, apportez votre tapis de yoga ou une serviette.


DIRECTIONS
We will meet outside the Metro Tuileries, just inside the gates of the gardens. About five minutes before the start of class, we will walk over to the two tree groves closer to the Louvre on either side of the mini Arc de Triomphe. So be sure to arrive in plenty of time to get checked in and walk over with the group. For those arriving late, come find us there!

This class will be held on the tree grove on the LEFT
(looking at the Louvre).
Any problems, follow link for teacher's phone numbers:
http://www.affordableyogafitness.com/pages/contact
*If you need to contact the instructor, please do so at least 20 minute before the start of class. As our teachers will be busy checking in students with their personal smartphones 15 minutes before class, please text as opposed to calling as they will most likely not be able to take a call.
No communication will be possible after the start of class.


CLASS CANCELLATION
- BAD WEATHER
This class is subject to cancellation depending on weather conditions. If the teacher deems the conditions or forecast unsafe or too disagreeable then the class will be cancelled 2 hours or more before the start time. An auto-email will be sent out to students and credit will be restored to accounts. Please check the schedule on days where the weather forecast looks questionable.

-LOW ATTENDANCE
Classes with 4 or less students will be cancelled 2 hours before the start of the class. An auto-email will be sent out and credit restored to accounts.


WHAT TO WEAR AND BRING
- This class is practiced barefoot
- Please wear comfortable clothes
- Water Bottle
- Yoga mat or Towel


CHANGING FACILITIES
As we will be exercising outdoors, there are no dedicated changing facilities. If it is possible, please come changed into your exercise clothes.


HEALTH SCREENING
Please notify your instructor if you have undergone any recent surgeries or are currently experiencing any physical injuries. While yoga has many very beneficial health effects, we want to know how to best work with each of our student's individual restrictions. Please consult a doctor if you have any personal concerns about practicing yoga or fitness.
Upcoming classes: