Outdoor Vinyasa Flow, 90min - Tuileries, LEFT GROVE
This class is taught by: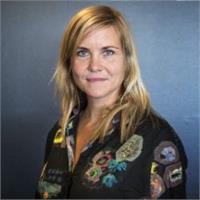 French Speaking
Hanna Rydén is an international yoga teacher and journalist with roots in Sweden.
She is currently based in Paris, where she is the European correspondent for the Swedish daily newspaper Göteborgs-Posten (www.gp.se). She also writes for Scandinavia's largest yoga magazine Yoga för Dig (www.yogafordig.nu).
Before Paris, she was living in India for 2,5 years where she was teaching yoga and freelancing as a journalist. She did her yoga training in India and Sweden.
Her yoga is based on classical hatha yoga and allows everyone to participate. Sometimes the lessons will be more with flow, other times there will be more influence of kundalini and yin yoga. Everything depends of the energy in the room!
The key words in her teaching are allowance, joy and warmth.
Hanna does not currently teach any regular classes with us.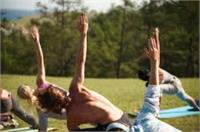 The purpose of a Vinyasa class is to link the traditional yoga asanas / postures together into a harmonious flow of transitioning positions while giving focus to active meditation. This could be considered a more 'active' class than our Hatha offerings. It is dynamic yet soft in nature, and relaxation is often reserved to the end of the session. The sequence of postures will vary from class to class, building on the fluid transitions of core asanas to develop strength, flexibility, balance and focus.
This class is taught in English, most of our teachers do speak some French, don't hesitate to ask for help understanding.
Le but d'un cours de Vinyasa est de relier les asanas traditionnels/postures ensemble dans un flux harmonieux, tout en donnant l'accent à la méditation active. Cela pourrait être considéré comme un cours plus «actif» que nos cours de Hatha. Il est dynamique mais doux en nature, et la détente est souvent réservé à la fin de la session. La séquence de postures varie d'un cours à l'autre travaillant sur les transitions fluides d'asanas de base pour développer de la force, de la souplesse, de l'équilibre et de la concentration. Le cours est ouvert à tous et il est en Anglais, n'hésitez pas à demander de l'aide à mieux comprendre. Apportez votre tapis de yoga ou une serviette.


DIRECTIONS
We will meet outside the Metro Tuileries, just inside the gates of the gardens. About five minutes before the start of class, we will walk over to the two tree groves closer to the Louvre on either side of the mini Arc de Triomphe. So be sure to arrive in plenty of time to get checked in and walk over with the group. For those arriving late, come find us there!

This class will be held on the tree grove on the LEFT
(looking at the Louvre).
Any problems, follow link for teacher's phone numbers:
http://www.affordableyogafitness.com/pages/contact
*If you need to contact the instructor, please do so at least 20 minute before the start of class. As our teachers will be busy checking in students with their personal smartphones 15 minutes before class, please text as opposed to calling as they will most likely not be able to take a call.
No communication will be possible after the start of class.


CLASS CANCELLATION
- BAD WEATHER
This class is subject to cancellation depending on weather conditions. If the teacher deems the conditions or forecast unsafe or too disagreeable then the class will be cancelled 2 hours or more before the start time. An auto-email will be sent out to students and credit will be restored to accounts. Please check the schedule on days where the weather forecast looks questionable.

-LOW ATTENDANCE
Classes with 4 or less students will be cancelled 2 hours before the start of the class. An auto-email will be sent out and class credit restored to accounts.


WHAT TO WEAR AND BRING
-Comfortable clothes that don't restrict movement
-This class is generally practiced barefoot
-Mat or towel
-Water Bottle
-Optional - Yoga props - blocks, straps, cushions, etc


CHANGING FACILITIES
As we will be exercising outdoors, there are no dedicated changing facilities. If it is possible, please come changed into your exercise clothes.


HEALTH SCREENING
Please notify your instructor if you have undergone any recent surgeries or are currently experiencing any physical injuries. While yoga has many very beneficial health effects, we want to know how to best work with each of our student's individual restrictions.
Please consult a doctor if you have any personal concerns about practicing yoga.
Upcoming classes:
Sign Up

Sun

27 Aug 1:15 pm - 2:45 pm

with

Hanna

Ryden