Outdoor Intermediate Vinyasa Flow Yoga, 90min - Tuileries, LEFT GROVE
This class is taught by: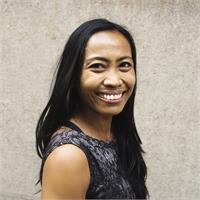 Atie is from Indonesia and claims that she is still pure Indonesian even after living in Tokyo, New York and now Paris. She earned her 200 hour yoga teacher certification and Level 1 Restorative certification from Yogaworks in New York. Following her loving husband, she arrived in Paris in November of 2015.

Her personal fitness regime includes dance classes, CrossFit, and weight lifting. However, yoga is her passion and stable foundation wherever she happens to be living. According to Atie her experience in yoga brings enlightenment and liberation for her being, and her practice is the ultimate journey to herself: body, mind and soul.

She has taught corporate/group classes as well as private clients in New York and Jakarta. Her style when guiding Vinyasa and Hatha Yoga classes is energizing, challenging, and playful and at the same time calming and nurturing. She believes that a smile is as important as the breath. "Yoga is for everybody and every body", and she encourages students not hesitate to ask her about postures and their modifications.

Her exploration of Yoga extends to other styles such as Iyengar, Dharma Yoga and Ashtanga. Patanjali's "Yoga Sutras" is the book of choice that she is always returning to, and that she brings with her wherever she travels.

As happy as she is in all of her other fitness endeavors she is on the lookout for a Badminton partner, so get in touch with her if you would like to play!
This class is for those who are wishing to progress their yoga practice on a more advanced level. The intermediate level offering will follow a similar format as our 'All Levels' Vinyasa Flow classes, but will include a series of more advanced postures, shorter breaks in between sequences, and for those who are hoping to attend on a regular basis, an element of progression.
The class is suitable for all who have been practicing yoga for a substantial period of time, feel confident about the basic yoga techniques, and would like to challenge themselves further.
The class will include less verbal descriptions of how to get into postures but rather more guidance on how to perfect and progress them once you are holding and transitioning through the asanas.
This class is taught in English, most of our teachers do speak some French, don't hesitate to ask for help understanding.
Ce cours est pour ceux qui ont envie de progresser plus dans leur pratique de yoga. Le style du cours sera le même que les cours ouverts à tous, mais avec des séries de postures plus avancées, des temps de pause plus courts, pour ceux qui viennent régulièrement le cours apportera un élément de progression.
Le cours est bien pour ceux qui pratiquent le yoga depuis un moment, qui sont à l'aise das les techniques de base et qui veulent se pousser plus loin. Il y a moins de précisons verbales pour comment entrer dans une posture, mais plus de précisions à comment aller plus loin dans la posture même. Le cours est en anglais, mais n'hésitez pas à demander de l'aide à comprendre. Apportez votre votre tapis de yoga ou une serviette et une bouteille d'eau.


DIRECTIONS
We will meet outside the Metro Tuileries, just inside the gates of the gardens. About five minutes before the start of class, we will walk over to the two tree groves closer to the Louvre on either side of the mini Arc de Triomphe. So be sure to arrive in plenty of time to get checked in and walk over with the group. For those arriving late, come find us there!

This class will be held on the tree grove on the LEFT
(looking at the Louvre).
Any problems, follow link for teacher's phone numbers:
http://www.affordableyogafitness.com/pages/contact
*If you need to contact the instructor, please do so at least 20 minute before the start of class. As our teachers will be busy checking in students with their personal smartphones 15 minutes before class, please text as opposed to calling as they will most likely not be able to take a call.
No communication will be possible after the start of class.


CLASS CANCELLATION
- BAD WEATHER
This class is subject to cancellation depending on weather conditions. If the teacher deems the conditions or forecast unsafe or too disagreeable then the class will be cancelled 2 hours or more before the start time. An auto-email will be sent out to students and credit will be restored to accounts. Please check the schedule on days where the weather forecast looks questionable.

-LOW ATTENDANCE
Classes with 4 or less students will be cancelled 2 hours before the start of the class. An auto-email will be sent out and class credit restored to accounts.


WHAT TO WEAR AND BRING
- This class is practiced barefoot
- Please wear comfortable clothes
- Water Bottle
- Yoga mat or Towel


CLASS LEVEL
This class is specifically intended for the well practiced yogi. Don't be intimidated if you feel you have a solid understanding of the postures and would like to step it up a notch. We just don't want anyone to walk into their first yoga class and think that it's not for them. If you would like a more foundation building class, almost all of our other offerings are aimed toward being 'All Level' or designated as 'Beginner/Improver'.


CHANGING FACILITIES
As we will be exercising outdoors, there are no dedicated changing facilities. If it is possible, please come changed into your exercise clothes.


HEALTH SCREENING
Please notify your instructor if you have undergone any recent surgeries or are currently experiencing any physical injuries. While yoga has many very beneficial health effects, we want to know how to best work with each of our student's individual restrictions.
Please consult a doctor if you have any personal concerns about practicing this type of physical fitness.
Upcoming classes:
Sign Up

Wed

30 Aug 7:00 pm - 8:30 pm

with

Atie

Julie