Prenatal Yoga Bilingual - English/Français - 60min
This class is taught by: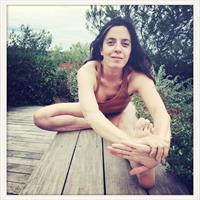 French speaking
Helene is a typical "Parisienne" since she lived in the city for 22 years now, but her heart is in Brittany by the ocean. She loves long walks to observe the changing lights of nature and taking pictures, as her first job is photographer. She is also a big fan of vegan cooking, always trying new recipes for her friends and family, especially cakes ! :)
Helene discovered the benefits of yoga after practicing martial arts intensively, which left her with several tendinitis, prohibiting her from any sport although she was a big fan of surfing... Yoga has allowed her to relieve her pain and has taught her to get in touch with herself, as well as her physical and mental abilities. Yoga also provided valuable emotional balance in an intense city as Paris.
With 10 years of regular Vinyasa practice at Gerard Arnaud Studio, she decided to deepen her knowledge and followed the initial training of the French Federation of Yoga with Gérard Arnaud in 2015 (RYT 200). Helene also benefited from the knowledge of the perineum thanks to Dr. Bernadette de Gasquet during her two pregnancies. She specialized in the same year in prenatal and post natal yoga at the Institute De Gasquet. She is now happy to care for women before and after childbirth through the method © APOR (Postural-Respiratory Approach).
Helene loves teaching Vinyasa for the accuracy and precision of its alignments. She pays special attention to detailed asanas while respecting the morphology and respective capabilities, in order to avoid injuries or long-term chronic pain.
In prenatal she attaches great importance to listening and welfare moms because she believes conception, pregnancy and birth are the major elements that determine the future life of a human being. So helping to relieve the pain of pregnancy through fair postures, increasing awareness among mothers of the importance of breathing to relax and improve the welfare of the baby are part of the tasks she has set herself in life.
Helene will be teaching in French and English. Feel comfortable with her to ask what you prefer.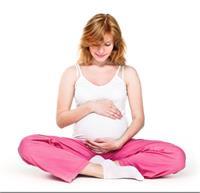 The goal of this class is to help expectant mothers alleviate the different physical symptoms experienced during each trimester of pregnancy.
This class will be taught in a mixture of English and French.
We will work progressively through a range of yoga postures including: forward and backward bends, rotations, inversions, ribcage expansions, standing postures, and arm-stretches.
A few moments of each class will also be dedicated to breathing exercises and calming meditation.
As well as enhancing the vitality, mobility, general health and emotional well-being of the expectant mother, prenatal yoga also provides a valuable quiet space in which to develop their relationship with the baby inside.
These classes can be a time to rest in the assurance that you are in safe hands, and allow you to enjoy a sense of being cared for, understood, supported and encouraged in your role as mother.
INDIVIDUAL APPROACH
To make sure that every amazing participant gets the most rewarding and beneficial experience we aim to tailor the class for you in the following ways:
1. Trimestre-appropriate modifications - Whether you are at the beginning of your 9 month journey or are nearing the big day, we will recognise the differences in what your body needs at each of the stages and offer Trimestre-appropriate modifications and recommendations.
2. Individual health discovery questionnaires - These will be filled out by each participant before the beginning of their first class and the teachers will offer specific modifications and alternatives to ensure your practice is safe and beneficial. Please either email us the answers, or come with the questionnaire filled out in digital format on your mobile device. (Lets save the trees!)
The questions will be sent to you upon your booking confirmation email. Before your first class, please arrive at least 15 minutes early to discuss your Health Discovery Questionnaire so we can accurately tailor the class to your needs.
3. Mindfulness towards the level of previous yoga experience - This class is open to all levels of Yoginis. Whether you have practiced yoga before getting pregnant or Pre-natal Yoga will be your first experience of this discipline, we will aim to cater for all abilities and preferences.
While Pre-natal yoga practice is designed to be naturally slower paced and soft, we will recognise if you are an experienced yogini and make sure that everyone is working at a level that is beneficial to them.
WHAT TO WEAR
-Comfortable clothes that don't restrict movement
-This class is generally practiced barefoot
*Showers and designated changing facilities available only at Studio Bleu in 75009; all other indoor locations have restroom facilities available for changing.
WHAT TO BRING WITH YOU
-Mat or towel (there are no mats available to borrow in the spaces)
-Water Bottle
-Optional - Yoga props - blocks, straps, cushions, etc
*Yoga mats are available to purchase for 24€ each. Non-toxic materials, variety of colors, size: 63cm x 183cm. Follow link to purchase:
http://clients.mindbodyonline.com/classic/ws?studioId=39852&stype=43&prodid=10162
Mats can be delivered to our classes in the locations in 75001 (St. Roch) and 75009 (Studio Bleu). Once ordered, email support@affordableyogafitness.com, and let us know during which class and at which location you would like to pick up your mat. Please bring your receipt to the class.
DIRECTIONS
Please verify class location or address on our schedule as we have several venues in Paris:
http://www.affordableyogafitness.com/apps/mindbody/list-schedule
Location details can be found on the 'Contact Us' page:
http://www.affordableyogafitness.com/pages/contact
When you enter the building, look to follow the Affordable Yoga signs to your specific room.
Any problems, follow link for teacher's phone numbers:
http://www.affordableyogafitness.com/pages/contact
*Please note that there is limited mobile phone reception at the studios. If you need to contact the instructor, please do so at least 20 minute before the start of class. Since our teachers will be busy checking in students with their personal smartphones starting 15 minutes before class, please send a text as opposed to calling as they will most likely not be able to take a call. No communication will be possible after the start time of class.
HEALTH SCREENING
Please notify your instructor if you have undergone any recent surgeries or are currently experiencing any physical injuries. While yoga has many very beneficial health effects, we want to know how to best work with each of our student's individual restrictions. Please consult a doctor if you have any personal concerns about practicing prenatal yoga.
*Please note we can only accept students from the term of 12 Weeks of pregnancy onwards.
Upcoming classes: