Outdoor Pilates & Core - Tuileries, RIGHT GROVE
This class is taught by:
Gillian is an American living in Paris for over a decade. Yoga became a major part of her life after giving birth to her son 10 years ago. Her practice has helped to maintain balance in her personal and professional life. Teaching for Gillian is a way to help others also find balance in the often hectic urban environment.

Also, as a student of Ayurvedic medicine, Gillian finds much joy in working with homeopathy as an alternative way of healing that is complementary to modern medicine. As a Reiki master, she has practiced the healing arts through touch and the redirection of energy in the body.

Gillian completed her Yoga training (200 RYT) at the Sivananda Ashram in Orleans, France. The Sivananda style is very traditional Hatha with a major focus on meditation and spirituality. Hatha is a slow and steady practice that helps build a strong body and mind while focusing on the breath and energy centers of the body. Gillian completed her Kundalini Yoga training with 3HO, the association formed by the Guru Yogi Bhajan to bring the practice of Kundalini to the West. Kundalini Yoga is called the Yoga of Awareness. It is a dynamic, powerful tool that is designed to give you an experience of your soul.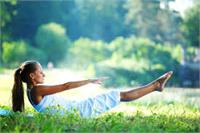 Pilates is a system of controlled exercises that engage the mind and condition the total body. The blend of strength and flexibility training improves posture, reduces stress, and creates long, lean muscles without bulking up. Pilates takes a balanced approach so that no muscle group is overworked and the body moves as an efficient, holistic system in sport and daily activity.

These classes are guaranteed to strengthen your abs, burn fat and sculpt your body!
This class is taught in English, most of our teachers do speak some French, don't hesitate to ask for help understanding.
Le Pilates est une pratique qui renforce le corps entier, sans trop travailler une partie ni oublier une autre. Le mélange d'exercises de force et de souplesse améliore la posture, réduit le stresse et sculpte les muscles. Le cours est en anglais mais n'hésitez pas à demander des précisions si vous ne comprenez pas. Prenez votre tapis de yoga ou une serviette, une bouteille d'eau. Ce cours est pratiqué pieds nus et il est ouverts à tous.


DIRECTIONS
We will meet outside the Metro Tuileries, just inside the gates of the gardens. About five minutes before the start of class, we will walk over to the two tree groves closer to the Louvre on either side of the mini Arc de Triomphe. So be sure to arrive in plenty of time to get checked in and walk over with the group. For those arriving late, come find us there!

This class will be held on the tree grove on the RIGHT
(looking at the Louvre).
Any problems, follow link for teacher's phone numbers:
http://www.affordableyogafitness.com/pages/contact
*If you need to contact the instructor, please do so at least 20 minute before the start of class. As our teachers will be busy checking in students with their personal smartphones 15 minutes before class, please text as opposed to calling as they will most likely not be able to take a call.
No communication will be possible after the start of class.


CLASS CANCELLATION
- BAD WEATHER
This class is subject to cancellation depending on weather conditions. If the teacher deems the conditions or forecast unsafe or too disagreeable then the class will be cancelled 2 hours or more before the start time. An auto-email will be sent out to students and credit will be restored to accounts. Please check the schedule on days where the weather forecast looks questionable.

-Low Attendance
Classes with 4 or less students will be cancelled 2 hours before the start of the class. An auto email will be sent out and credit restored to accounts.


WHAT TO WEAR AND BRING
- This class is practiced barefoot
- Please wear comfortable clothes
- Water Bottle
- Yoga mat or Towel


CHANGING FACILITIES
As we will be practicing outdoors, there are no dedicated changing facilities. If it is possible, please come changed into your exercise clothes.


HEALTH SCREENING
Please notify your instructor if you have undergone any recent surgeries or are currently experiencing any physical injuries. While yogic bootcamp has many very beneficial health effects, we want to know how to best work with each of our student's individual restrictions. Please consult a doctor if you have any personal concerns about practicing this type of physical fitness.
Upcoming classes:
Sign Up

Wed

30 Aug 1:00 pm - 2:00 pm

with

Gillian

Grant