Outdoor Hatha Yoga 60min - Tuileries, LEFT GROVE
This class is taught by:
French speaking
Louise is originally from England, where she grew up in beautiful Cornwall. In 2001 she moved over to Brittany and in 2009 Louise moved to Paris for her job as store manager in an organic Naturalia shop. After leaving this stressful and exhausting job, Louise decided to stay and teach yoga in Paris.
Louise is a huge fan of cooking and eating! As a vegetarian, she combines flavours, spices and origines to create a colourful, healthy, international fusion.
She loves to travel, to meet new people, discover places, ideas, and collecting recipes where ever she goes.
Louise followed an intensive 200h classical yoga teacher training in Spain in 2013. This is where she learned the basics of alignment and asana, aswell as breathing and relaxation techniques and meditation.
In 2015, Louise followed one of her inspiring teachers in a ten week ayurveda course, the Dinacharya, where she discovered the basics of ayurveda and how to bring it into everyday life to live a more peaceful, happy and healthy life. She has also studied crystal healing, Korean relaxation massage and Reiki.
In her own practice, Louise enjoys the natural mix of subtle and dynamic movement. Being on her mat and listening to her body and practicing what it asks for. She especially loves the energy created in a slow, mindful, expansive flow which balances both the body, the mind and the more subtle elements of the self.
As much as possible Louise moves from the heart when on the mat, she also reminds herself regularly to smile and have fun !
In the past few years, breath work and mantra have eased themselves into her practice, as well as self massage and gratitude.
Louise's classes are light hearted with a positive and optimistic vibe. She encourages students to listen to their body, to feel their breath and to relax into each posture.
In each class Louise focuses on alignment, grounding and expanding. Falling over, cracking joints and laughter are all welcome in her classes which begin with intention and finish in gratitude.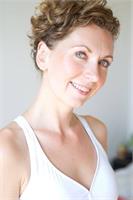 Hello, I am Anna. My passion (sounds corny, but its true!) is to make people happier and healthier by introducing them to fitness, yoga and healthy nutrition. I have been practicing yoga for 7 years and now am Qualified Yoga Alliance Teacher RYT200 as well as hold a full diploma in Personal Training,
A bit more about me…
I am a British/Russian and have lived almost equal amounts of my life now in both the countries, before moving to Paris 2 year ago. I have a background in corporate career, but I packed it in and quit my job to become a health and fitness professional 3 years ago when I qualified as a yoga teacher as well as a personal trainer and nutrition consultant. Aside of my work-related passions, I love photography and design. I love trying to understand contemporary art, and spotting street art. I also love being outdoors, mountains, sea, forests, – all give me great pleasure to explore, especially when I'm doing something active with a great group of friends.
Professional history
I Have been into sports and fitness from a young age. Growing up in a very sporty family (my dad is ex-elite decathlete, and my mum owns and runs a successful fitness centre for over 20 years.) I always got involved in and loved everything my parents did, and after getting a degree in Business Management in the UK and a brief stint in the corporate world I realised that my true professional calling was my lifelong passion for sports and fitness. I then quit my job and re-trained as a Personal Trainer, nutrition consultant, aqua-fitness instructor and then went to India where I trained to become a yoga teacher and reiki healer. After coming back from India I moved to France where I saw a need for affordable health and wellbeing and shortly after founded Affordable Yoga, where I now work full time.
There has been tremendous support and interest in this initiative so I have lots of exciting plans of expansion into different locations and adding new exciting services. If there isn't something yet on offer that completely suits your needs in terms of time and location, please follow keep checking back for news!
Gillian is an American living in Paris for over a decade. Yoga became a major part of her life after giving birth to her son 10 years ago. Her practice has helped to maintain balance in her personal and professional life. Teaching for Gillian is a way to help others also find balance in the often hectic urban environment.

Also, as a student of Ayurvedic medicine, Gillian finds much joy in working with homeopathy as an alternative way of healing that is complementary to modern medicine. As a Reiki master, she has practiced the healing arts through touch and the redirection of energy in the body.

Gillian completed her Yoga training (200 RYT) at the Sivananda Ashram in Orleans, France. The Sivananda style is very traditional Hatha with a major focus on meditation and spirituality. Hatha is a slow and steady practice that helps build a strong body and mind while focusing on the breath and energy centers of the body. Gillian completed her Kundalini Yoga training with 3HO, the association formed by the Guru Yogi Bhajan to bring the practice of Kundalini to the West. Kundalini Yoga is called the Yoga of Awareness. It is a dynamic, powerful tool that is designed to give you an experience of your soul.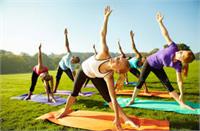 Hatha yoga style incorporates a series of isolated / static postures that are held for between 30sec and 3mins with rests in between. This style of class always incorporates deep relaxation and breathing exercises in addition to the practice of yoga asanas / postures. The slower pace also allows for a more concentrated focus of proper body alignment in each pose.  This is an excellent opportunity to become familiar with the traditional postures that are used in a more fluid Vinyasa class.
This class is taught in English, most of our teachers do speak some French, don't hesitate to ask for help understdanding.
Le yoga Hatha intègre une série de postures tenues pour entre 30sec et 3mn. On utilise des postures de "repos" entre chaque asana. Ce style de cours incorpore toujours une profonde relaxation et des exercices de respiration, en plus de la pratique du yoga asanas / postures. Le rythme plus lent permet également une approche plus concentrée d'alignement du corps dans chaque pose. Ceci est une excellente occasion de se familiariser avec les postures traditionnelles qui sont utilisées dans les cours de Vinyasa qui est plus rapide.
Ce cours est en anglais. Si ce n'est pas votre langue maternelle, n'hésitez pas à demander des précisions au professeur. Prenez votre tapis de yoga ou une serviette, des vêtements souples et une bouteille d'eau. Pour plus d'informations sur le lieux, regardez notre site "contact us".


DIRECTIONS
We will meet outside the Metro Tuileries, just inside the gates of the gardens. About five minutes before the start of class, we will walk over to the two tree groves closer to the Louvre on either side of the mini Arc de Triomphe. So be sure to arrive in plenty of time to get checked in and walk over with the group. For those arriving late, come find us there!

This class will be held on the tree grove on the LEFT
(looking at the Louvre).
Any problems, follow link for teacher's phone numbers:
http://www.affordableyogafitness.com/pages/contact


*If you need to contact the instructor, please do so at least 20 minute before the start of class. As our teachers will be busy checking in students with their personal smartphones 15 minutes before class, please text as opposed to calling as they will most likely not be able to take a call.
No communication will be possible after the start of class.


CLASS CANCELLATION
- BAD WEATHER
This class is subject to cancellation depending on weather conditions. If the teacher deems the conditions or forecast unsafe or too disagreeable then the class will be cancelled 2 hours or more before the start time. An auto-email will be sent out to students and credit will be restored to accounts. Please check the schedule on days where the weather forecast looks questionable.

-Low Attendance
Classes with 4 or less students will be cancelled 2 hours before the start of the class. An auto-email will be sent out and credit restored to accounts.


WHAT TO WEAR AND BRING
- This class is practiced barefoot
- Please wear comfortable clothes
- Water Bottle
- Yoga mat or Towel


CHANGING FACILITIES
As we will be practicing outdoors, there are no dedicated changing facilities. If it is possible, please come changed into your exercise clothes.


HEALTH SCREENING
Please notify your instructor if you have undergone any recent surgeries or are currently experiencing any physical injuries. While yoga has many very beneficial health effects, we want to know how to best work with each of our student's individual restrictions.
Please consult a doctor if you have any personal concerns about practicing this type of physical fitness.
Upcoming classes: