Outdoor Gentle Yoga - Tuileries, GRANDE LAWN
This class is taught by: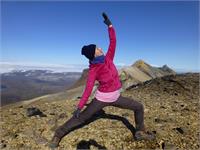 French speaking
Katie is from Denver, CO and was brought appropriately to Paris, the city of love, in 2013 by following her heart and marrying a Frenchman.
Off the yoga mat, she is a member of a wall-climbing club, which has enabled her to pursue outdoor rock climbing and bouldering. She also holds a master's degree in opera performance, and still performs from time to time in addition to teaching regular music foundation classes to children.

She has been a certified yoga teacher since 2012 when she completed a 200-hour program with Core Power Yoga, a Yoga Alliance registered studio. She later finished training programs with Next Generation Yoga for Kids, to share her practice with younger yoginis, and The Institut de Gasquet for pre and post-natal yoga.

During her yoga classes, one can expect to have a light hearted and playful session while maintaining the integrity of yogic tradition. She purposefully centers each class around a theme, encouraging everyone, including herself, to take the practice deeper than the physical level and to take what they have gained during the session out the door with them. To follow Katie's regular teaching schedule, please subscribe to the group: Katie's Yoga on Facebook:

https://www.facebook.com/groups/409692662426904/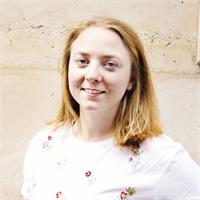 French speaking
Juliette was born in Paris and lived there until she was 17 years old. She then moved to Reims, Aix-en-Provence, Mexico city and then to Montreal before coming back to Paris 2 years ago to work in sustainable development.
Off the mat, Juliette is working full time to set sustainable projects in the business world. She loves to cook, travel, meet new people and find new alternatives to overconsumption!
Juliette completed a 200hr vinyasa yoga training : Expansion Freedom Voice by Janelle Olliel Waters and Amanda Dates in Paris.
Juliette created with her sister Pauline (also a vinyasa yoga teacher) SisterWood Yoga sisterwoodyoga.com
Juliette wants to make yoga accessible to most people. The main objective is to take time for ourself and have fun!
Juliette teaches dynamic vinyasa classes on music integrating asanas and core work to build a sustainable practice and reach one goal : Progress, not perfection.
Are you looking for a peaceful practice to bring you into a deep sense of unity with your body? Would you prefer a graceful opportunity to move and breathe? If so, please come join this class where the focus will be on steadily finding deep flexibility, particularly in the low back, hips and hamstrings, often our tightest spots. We will take significant time in each posture, and move at an effortless, relaxed pace.
This class is taught in English, most of our teachers do speaks some French, don't hesitate to ask for help understanding.


DIRECTIONS
We will meet outside the Metro Tuileries, just inside the gates of the gardens. About five minutes before the start of class, we will walk over to
the lawns between the the Museum des Arts Decoratifs and the Louvre School of Art.
So be sure to arrive in plenty of time to get checked in and walk over with the group. For those arriving late, come find us there!
Any problems, follow link for teacher's phone numbers:
http://www.affordableyogafitness.com/pages/contact
*If you need to contact the instructor, please do so at least 20 minute before the start of class. As our teachers will be busy checking in students with their personal smartphones 15 minutes before class, please text as opposed to calling as they will most likely not be able to take a call.
No communication will be possible after the start of class.


CLASS CANCELLATION
- BAD WEATHER
This class is subject to cancellation depending on weather conditions. If the teacher deems the conditions or forecast unsafe or too disagreeable then the class will be cancelled 2 hours or more before the start time. An auto-email will be sent out to students and credit will be restored to accounts. Please check the schedule on days where the weather forecast looks questionable.

-Low Attendance
Classes with 4 or less students will be cancelled 2 hours before the start of the class. An auto-email will be sent out and credit restored to accounts.


WHAT TO WEAR AND BRING
- This class is practiced barefoot
- Please wear comfortable clothes
- Water Bottle
- Yoga mat or Towel


CLASS LEVEL
Can be adapted to all levels from beginner to advanced, so all levels are welcome at all classes. The instructor will demonstrate all exercises in detail and give different options for participants of different levels.


LANGUAGES
This class is lead entirely in English. If English is not your first language, explanations in French may be possible as well, although each teacher's level varies.


CHANGING FACILITIES
As we will be exercising outdoors, there are no dedicated changing facilities. If it is possible, please come changed into your exercise clothes.


HEALTH SCREENING
Please notify your instructor if you have undergone any recent surgeries or are currently experiencing any physical injuries. While yogic bootcamp has many very beneficial health effects, we want to know how to best work with each of our student's individual restrictions.
Please consult a doctor if you have any personal concerns about practicing this type of physical fitness.